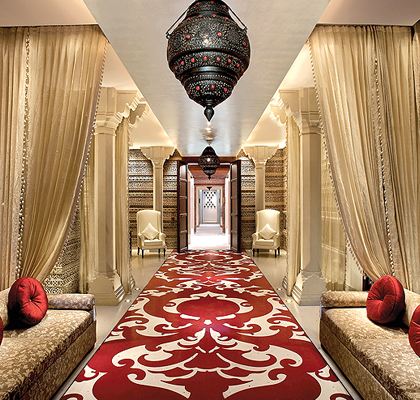 ITC's foray into the hotels business began in 1975. Inspired by the vision to promote India's rich tourism heritage and also contribute to the nation's then scarce foreign exchange earnings, ITC's hotels business set about to create a unique value proposition that would redefine the fine art of hospitality. Since then ITC-Welcomgroup has emerged as one of India's premier hospitality chains offering hotels, resorts and palaces.
With over 100 hotels in more than 80 destinations and four brand propositions spanning Luxury to Five-Star and Budget to Heritage, ITC-Welcomgroup has set new standards of ain the hotel industry touching new dimensions in Accommodation, Cuisine, Environment and Guest Safety. ITC's commitment to delivering globally bench marked services, embedded in a culture deeply rooted in India's rich tradition of hospitality, gives it a unique and distinct identity.
A leader in the premium hospitality segment, ITC Hotels have had the privilege of hosting world leaders, Heads of State, business leaders and other distinguished guests from all across the world.
ITC-Welcomgroup pioneered the holistic concept of 'branded accommodation' in the hospitality industry. It was the first to launch the idea of 'A Hotel within a Hotel', by segmenting, customising and branding hotel services like 'ITC One', 'Towers' and the 'Executive Club.' Each of these cater to the specialised needs of the global business traveller with unmatched quality and a range of custom-made services. ITC has strategically customised its hotels and appropriately categorised them to fulfill the service and budgetary needs of travellers. ITC has an exclusive tie-up with global partner Starwood for its top of the line premium brand, the 'Luxury Collection'. A select few among ITC's hotel properties are also associated with Starwood's Sheraton brand with which ITC has enjoyed a three decade partnership.
ITC-Welcomgroup properties are classified under 4 distinct brands: ITC Hotel - The Luxury Collection, WelcomHotels, Fortune Hotels and WelcomHeritage.