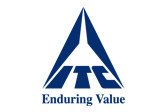 Education and Stationery

ITC made its entry to the education and stationery business with its Paperkraft brand in the premium segment in 2002; and later expanded into the popular segment with its Classmate brand in 2003. By 2007, Classmate became the largest Notebook brand in the country. Together, Classmate and Paperkraft offer a range of products in the Education & Stationery space to the discerning consumer, providing unrivalled value in terms of product & price.
Classmate and Paperkraft have become a natural extension of the consumer. Meticulous understanding of consumer needs helped creating a relevant and comprehensive portfolio satisfying the needs of different sets of consumers.
ITC is the manufacturer of India's first Ozone treated environment friendly Elemental Chlorine Free (ECF) pulp, paper and paperboard. It blends its knowledge of image processing, printing and conversion garnered from Packaging & Printing Business with its brand building and trade marketing & distribution strengths resident in its FMCG business to offer superior value products to consumers.
Classmate over years has transformed itself from being a notebook brand to a provider of the complete stationery portfolio with the product range including high quality writing instruments (ball, gel & roller pens and wood-cased & mechanical pencils), mathematical instruments (geometry boxes), scholastic products (erasers, sharpeners and rulers) and art stationery products (wax crayons, plastic crayons, sketch pens and oil pastels)
For any queries, please write to:
classmate@itc.in or paperkraft@itc.in
For New Business Opportunities, please write to:
Shailendra.Tyagi@itc.in or R.Ravinarayanan@itc.in
Links to Press Reports
Apr 1, 2016

Nov 14, 2015

Jul 10, 2015

Sep 18, 2014

Jul 05, 2014

Apr 07, 2014

Mar 11, 2014

Jan 15, 2014

Aug 26, 2013

Jul 08, 2013

Jul 06, 2012

May 16, 2012

Feb 13, 2012

Sep 19, 2011

Jul 27, 2011

Nov 17, 2010

Aug 24, 2010

Apr 30, 2010

Jan 18, 2010

Aug 14, 2009

Aug 07, 2009

Jan 20, 2009

Jul 31, 2008

Oct 13, 2006

Apr 11, 2006

Apr 10, 2006

Aug 25, 2005

Oct 21, 2004

Oct 07, 2004

Dec 24, 2003

Dec 10, 2003

Oct 17, 2003

Aug 26, 2003

Aug 25, 2003

Aug 24, 2003

Jul 30, 2003

Jul 28, 2003

Feb 21, 2003