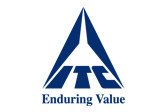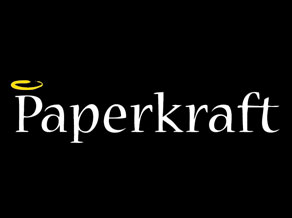 We at Paperkraft are committed to excellence, much like you are and we understand that you need a product that showcases who you are. Paperkraft products represent a deep-rooted commitment to the environment. Our products are aesthetically designed with a positive environmental footprint for the Global Indian in you. The paper is made in the country's greenest paper mills using Ozone treated Elemental Chlorine Free (ECF) technology.
Signature Series
Paperkraft Signature notebooks use Perma White ultra-premium paper, which has 100 years of shelf life! Waiting for you to pen ideas that too will stand the test of time! Made using Eco-friendly 80 GSM Perma - White, paper from responsible sources, the Superior PU quality cover gives you an experience that you will never forget.
Paperkraft Signature Series
Signature Colour Series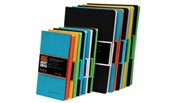 Paperkraft Signature notebooks make a statement even without writing a word! These notebooks come in vibrant cover-page combinations that are bound to hold anyone's attention. With vibrantly coloured PU covers and 80 GSM no-show-through papers, the Signature Colour series is a remarkable product for the professional inside you.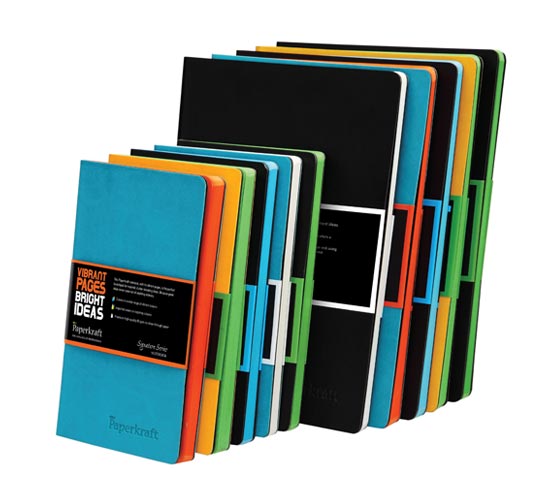 Paperkraft Signature Colour Series
Green Impression Series
Presenting the Green Impression range of eco-friendly notebooks with paper sourced from responsible sources. The elegant styling and ergonomic design make for great professional appeal. Extremely durable, the Green Impression series sets the benchmark for professional notebooks. The Ozone-treated Elemental-chlorine-free (ECF) paper ensures Paperkraft's strong commitment towards the environment.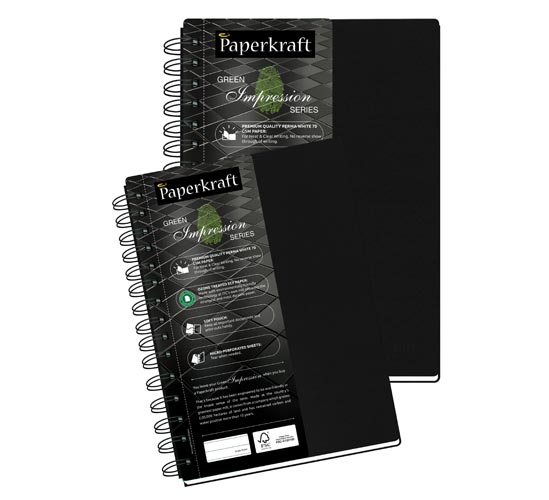 Paperkraft Green Impression Series
Expression Series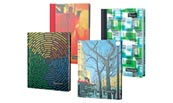 Art and aesthetics transform the mundane. The Expressions Series draws on patterns, signs and symbols to give the notebooks a style that is contemporary, fresh and trendy. The Ozone-treated Elemental-chlorine-free (ECF) paper is a testament to Paperkraft's environment-friendly outlook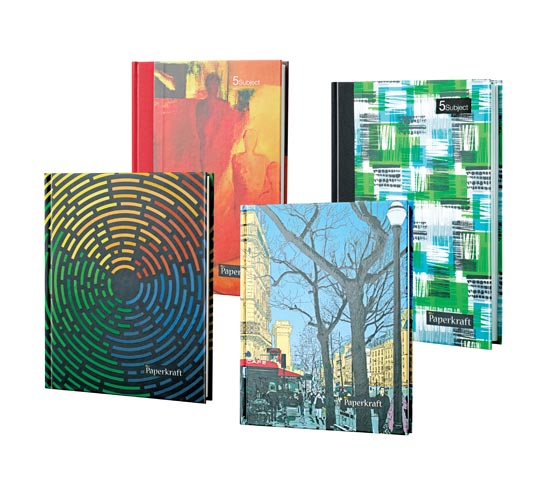 Paperkraft Expression Series
Notepads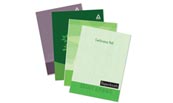 Paperkraft Notepads are made from the finest quality paper to exacting professional standards. Whiter and brighter than ordinary notepads, they provide a superior writing experience.
Paperkraft Notepads
For product related queries please contact paperkraft@itc.in or Toll-free 1800 425 3242 (from MTNL/BSNL lines)
Please visit our site : www.paperkraftstationery.com