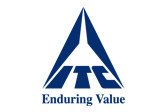 Russell Credit Limited

Russell Credit Limited is a 100% subsidiary of ITC Limited. Russell is an Investment Company with activities primarily confined to making long-term investments in areas of strategic thrust, namely FMCG, Hotels & Tourism, Paper, Paperboards & Packaging Agri Business and Information Technology.
Russell has one wholly owned subsidiary, Greenacre Holdings Limited, which is engaged in property infrastructure maintenance.