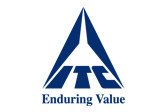 | | | |
| --- | --- | --- |
| | | |
Sustainability
| | |
| --- | --- |
| Investing in Social Development | |
ITC has spearheaded a large scale social investments programme christened Mission Sunehra Kal.
This programme aims at building rural capacity in partnership with local communities to develop water and forest resources, open up new non-farm livelihoods, empower women economically and expand primary education.
The Mission now embraces a community of thousands of villages that are influential nuclei of change in rural localities spread over 12 States. A clearly focused self-help movement has gained ground in village after village in these areas, with farmers co-operating to create much needed economic, environmental and social assets out of their own resources.
By linking knowledge and technology transfer to the creation of economic and social capacity, ITC has brought a new dynamic to rural development.
Some of ITC's significant initiatives are:
Registered Office:
ITC LIMITED, Virginia House, 37, Jawaharlal Nehru Road, Kolkata - 700071, India | Ph: +91-33-22889371, Fax:+91-33-22880655
Corporate Identity Number: L16005WB1910PLC001985 | For any queries or grievances contact Mr Aurko Dasgupta at
Website optimised for IE 7.0 with 1024 x 768 screen resolution |
© ITC Limited