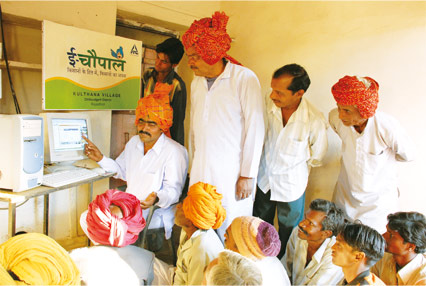 The ITC e-Choupals were designed to deliver enhanced value to all participants in the value chain, including farmers by leveraging the power of Information Technology. With a judicious blend of click and mortar capabilities, ITC e-Choupals have triggered a virtuous cycle of higher productivity, higher incomes and enhanced capacity for farmer risk management, larger investments and better quality.
Village internet-kiosks managed by lead farmers, called 'sanchalaks', facilitate information access to other farmers, in their own local language. Real-time information on weather forecasts and market prices, customised knowledge on scientific farm practices and risk management are supplemented by the availability of quality farm inputs and price discovery of farm produce within the village. Such crucial information and inputs enhance the ability of farmers to take informed decisions, align their farm output with market demand and ensure higher quality and productivity. The aggregation of demand for farm inputs from individual farmers gives them access to high quality inputs from established manufacturers at fair prices.
Launched in June 2000, ITC e-Choupal is today the largest initiative among internetbased interventions in rural India. Its services reach out to more than 4 million farmers in over 35,000 villages through 6,100 kiosks spread across 10 states.
Social Forestry
The Programme is aimed at providing food, fuel and fodder security through plantations by enabling financial, technical and marketing support to small and marginal farmers.
Commenced in 2001-02, the Programme has covered over 1.82 lakh acres under pulpwood plantation and over 73,000 acres under energy plantation (Table 3). To date, the Farm and Social Forestry Programmes have greened over 6.20 lakh acres, generating over 11.29 crores person-days of employment.
During the year, 1,48,236 lakh MT of wood was harvested (Table 4), of which 12% (17,460 MT) was FSC certified wood, which benefits farmers through premium payment. Total wealth generation was 57.05 crores for poor and marginal farmers.
Agro-Forestry (AF) continued to be given emphasis, accounting for more than 92% of area under eucalyptus. Its rising popularity, especially with smallholders, is because it optimises land-use for such farmers (see Box 1). Given the sizeable area under agro-forestry (82,255 acres), and to drive improvement in farm economics from intercrops, ITC partnered with the World Wide Fund for Nature, India (WWF India) to implement 'Better Cotton Initiative' in three districts of Telangana - Khammam, Warangal and Nalgonda - impacting over 1,800 farmers.
Smallholders Prefer Agro-forestry to Just Agriculture
Impact Assessment: Agro-forestry in Andhra Pradesh & Telangana
BOX 1
The study undertook crop-wise details of costs of cultivation, yields and revenue from agro-forestry plots of farmers and found that it "not only helps the farming community in terms of assured and sustainable livelihood from per unit of land but also will help in conservation of soil, water and environment".
1. Agro-forestry model allows small & marginal farmers to utilise their field for tree plantations but brings in dual benefits of regular income from field crops and lump-sum income from tree crops.
2. Average annual net returns per hectare from agro-forestry was 36,000 compared to 25,000 from pure block plantations and 21,000 from pure field crops.
3. Based on the findings, the study has recommended promotion of more than one crop per season, crosslearning between different project locations to understand different inter-crop options and to introduce new crops that are not currently cultivated but are suitable for the agro-climatic zones.
Findings of study by Transgraph Consulting Services Pvt. Ltd., November 2016
Sustainable Agriculture
The primary objective of Sustainable agriculture practices is to de-risk farming operations from erratic weather events through the promotion of climate smart agriculture premised on dissemination of relevant package of practices, adoption of appropriate mechanisation and provision of institutional services.
Choupal Pradarshan Khets (CPK), demonstration farms, disseminate scientific and technological research to the farmer comprising best practices, improved seed varieties and better production practices. The initiative covered around 1.50 lakh acres and directly benefitted more than 69,000 farmers with a multiplier effect through its wide-spread adoption.
Conservation Agriculture Technologies Increase Productivity & Decrease Inputs Costs
BOX 2
Yield improvement:
Data from Bihar showed 32% higher yield through Zero Tillage technique compared to Broadcasting methods.
Data from Madhya Pradesh showed that per hectare yield of soya was 21% higher through Broad Bed Furrow as compared to conventional line sowing.
Cultivation costs:
A detailed analysis of each cost component for wheat cultivation in Bihar showed that per hectare cost of production in Zero Tillage is 32% lower than broadcasting method.
A survey of soya farmers from MP showed that BBF technique had 6% lower cost of cultivation per hectare as compared to the line sowing method.
Project data, April-October 2016
In addition, 1,280 Farmer Field Schools (FFS) and 326 Agri Business Centres (ABCs) continued to give extension services (Table 5), promoted advanced agripractices, arranged agri-credit linkages and established collective input procurement and agricultural equipment on hire, together impacting over 44,933 farmers. To enhance participation of women in decision-making related to agriculture, 134 women led FFS were formed with 3,920 women farmers while 85 agri-enterprises run by women were active in the year.
Towards our long-term pursuit of improving Soil Organic carbon, 3,931 compost units were constructed during the year taking the cumulative total to 34,799 (Table 5). In addition, a variety of technologies were introduced to reduce cultivation costs and usage of water like zero tillage in wheat and broad bed furrow in soya. The adoption of zero tillage is now widely accepted in the project areas as is evident from the wheat acreage of the last two years. The broad bed furrow method, piloted last year, also saw a significant increase in area under soya during the year, mainly because of the benefits of in situ moisture conservation.
Soil & Moisture Conservation (SMC) towards Water Security
This Programme champions water security for all stakeholders through scientific waterbalance assessments and community-based participation in planning and execution.
This initiative covered over 1.36 lakh acres (Table 6) in 2016-17, taking the total area under SMC to over 7.76 lakh acres. Cumulatively, 10,099 water harvesting structures have been constructed, creating fresh water-harvesting potential of 300.82 lakh CuM. Going forward, one of the major challenges is to bring about greater inclusion and equity (see Box 3 on the next page).
PPP projects, with various state governments and NABARD, have traditionally formed a significant part of the total watershed projects implemented by MSK. In 2016-17, a new MoU was signed with MGNREGS in Pali district (Rajasthan) to cover 12,358 acres under watershed development. With this, the total target area under such PPP projects in Andhra Pradesh, Madhya Pradesh, Rajasthan and Maharashtra is over 4.03 lakh acres. Of the total, work on 51% of the area has been completed so far. Projects in partnership with NABARD are near completion since they are the earliest amongst the PPPs signed, with nearly 92% of the total target having been achieved to date.
Equitable Access to Common Pool Resources, a Challenge in Watershed Projects
Findings from two studies of Watershed Projects in Rajasthan & Madhya Pradesh
BOX 3
Water governance to ensure equitable distribution of benefits has been a matter of concern in most watershed projects. Being alive to this issue, the Company commissioned two studies on rights over natural resources and benefit sharing among communities in Rajasthan and Madhya Pradesh.
The overall observations of the studies were that the watershed programmes had improved the water situation in project villages, which led to the emergence of multi-cropping systems. At many places, landless villagers also benefitted as daily wages had increased. The two studies, however, raised valid questions on the quality of governance and therefore its impact on inclusive development. It was found that:
The ridge-to-valley approach mainly benefited large & medium farmers since lands adjacent to the channels generally belong to these two groups, thus excluding the small, marginal & landless.
While the governance structure tried to ensure participation of women, they were not able to participate freely due to social inhibitions. Men, as executive members, were also not sensitised on this issue.
Landless were largely missing as primary stakeholders since irrigation benefits flow to landowners only. Usage of machines for earthworks deprived wage labour to the landless. Some indirect benefits, like increased wages benefited the landless, but the quantum was negligible to make difference.
Negative externalities emerged for resource poor families and pastoralists due to restrictions on open grazing and collection of fodder from common lands. Fodder harvested was auctioned by the committee and its proceeds were not used for compensating livelihoods of the poor and pastoralists.
Based on the findings, the studies made the following recommendations, which are being actioned:
Gender appropriate mechanisation or pooling of labour from women headed households so as to be more inclusive of this category.
Shift of focus from irrigation led development approach to sustainable resource use approach through judicious use of water resources and exploring good cultivation practices with limited water assurance.
Formal rules on groundwater distribution and management to prevent excess withdrawal. Also awareness creation for cultivating less water intensive crops in rain-fed regions and water withdrawal from large water harvesting structures so as to maintain a positive water balance.
Planning interventions such that the livelihood concerns of the poor and pastoralists are built into the project so that watershed development becomes more equitable and livelihood-oriented.
Studies by Samarthan (Madhya Pradesh) & Development Support Centre (Rajasthan), October - December 2016

Included in this overall plan are 4 water-security projects at selected factory sites. ITC is collaborating with reputed institutions to assess the current water balance in the chosen locations and recommend solutions to achieve a Water Positive status for the project areas as a whole. The recommendations include watershed development, demand side management of water use, river basin revival and managed aquifer recharge. The current status of work at these units is shown in Table7.
Biodiversity Conservation
2,060 acres was covered under biodiversity conservation through in situ regeneration of native species in 2016-17, thus taking the cumulative total to 11,803 acres. The focus was on reviving ecosystem services provided to agriculture by nature, which has witnessed considerable erosion in recent decades (details are provided in the section on biodiversity). With direct impacts on agriculture, such an approach makes farmers stakeholders in the conservation effort, thus enhancing the probability of success significantly.
Towards this end, a partnership was launched during the year with IUCN to develop a template for the implementation of ecologically responsible agriculture in diverse landscapes in Munger district (Bihar). IUCN has identified three distinct ecosystem clusters in Munger: Sadar - riverine; Kharagpur - forest & lake and Asarganj - pond (lacustrine).
Animal Husbandry Services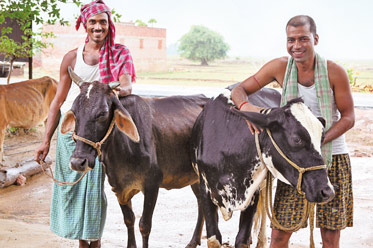 The Animal Husbandry Programme provides an opportunity for farmers to convert an existing asset into a substantial supplementary income with the potential of growing into a sustainable source of livelihood. The programme provided extension services, including breeding, fodder propagation and training of farmers to increase their incomes through enhanced productivity of milch animals in 25 districts. During the year 2.28 lakh Artificial Inseminations were carried out which led to the birth of 1.01 lakh cross-bred progeny.
In addition, pilot projects on indigenous breed promotion were initiated during the year in Madhya Pradesh in partnership with 13 existing gaushalas. 'Dugdh Choupal' in Kapurthala (Punjab) demonstrates the commercial viability of having cattle farms with indigenous breeds with the intent of encouraging them to preserve indigenous cattle varieties. Working with lead farmers and other agencies, the endeavour is to enhance farmer economics through contemporary practices and access to quality dairy services.
Women's Economic Empowerment
This initiative is designed to provide a range of gainful entrepreneurial opportunities to poor women supported with financial assistance by way of loans and grants. Strong market linkages are attempted to ensure long-term sustainability.
Ultra-Poor Women: Initiated in 2014, a holistic intervention currently supports 10,200 ultra-poor women to promote their socio-economic mainstreaming. The Programme is currently operational in 8 districts of Bihar, West Bengal, Madhya Pradesh, Telangana, Rajasthan and Assam and has cumulatively impacted 13,800 women (Table 9). 3,600 women out of total, graduated during the year with significant progress on
On the Road to Economic Empowerment & Life of Dignity
Jhunu Rajbangshi of Mangaldoi, Assam
BOX 4
Jhunu was married early and became a mother in her teens. She and her family led a hard life devoid of money and comforts. Things started to fall apart when her husband was diagnosed with a severe liver ailment. In order to feed her husband and two daughters, Jhunu started working as a housemaid. However, that was not enough to give her family a decent living.
Things changed for the better when she enrolled in the ITC-MSK-Bandhan Programme, where she got to run her grocery cum tea stall on a state highway, just outside Mangaldoi. Soon her business started to bloom. And to attract more customers, she started cooking snacks and food as well.
Jhunu recently took a small shop on rent behind her tea stall to earn extra income. Here she keeps packed eatables and grocery items, and cooks meals too. Jhunu is happy that her kids have re-joined school and she is able to take care of her husband's medical expenses, and he now helps her in business too.
In her own words: "My life had become a living hell as I had an ill husband and two young daughters to look after. In a patriarchal society, it is very hard for a woman to step out of her home and work. Thanks to the ITC-MSK and Bandhan, my life has now changed completely. They gave me courage to run a business. I am not only taking good care of my family, but also expanding my business to secure our future. Today, people in my village give me more respect. From a 'kaamwali bai (maid)', I am a 'dukaan waali (shop owner)' now. No small feat indeed."
Income Jump: To 3,670 per month from the initial 1,500 per month
Initial Support: 10, 825
Savings: 4,590
Secondary Assets: The value of her enterprise asset has increased to 20,000/- and she has taken a shop on rent.
Takeaway: This woman demonstrates how with the right training and guidance, the most disadvantaged can excel in a profession largely dominated by men in rural India.
outcome indicators in the areas of financial inclusion, literacy, health, water, sanitation and nutrition, besides income. 56% of the graduating women are earning more than 60,000 per annum from a base of less than 15,000 per annum (see Box 4 for impacts).
Self-Help Groups (SHGs): 496 SHGs were formed during the year with a membership of 6,398 women. Over 46,000 women were linked to individual bank accounts under the Pradhan Mantri Jan Dhan Yojana and life insurance schemes under Pradhan Mantri Jeevan Jyoti Yojana (PMJJY) and Pradhan Mantri Suraksha Beema Yojana (PMSBY).
Micro-enterprise: 300 women in Chandauli district have been provided livelihood opportunities through a model that enables them to produce agarbattis at their homes itself along with easy access to quality raw material and market for their produce.