ITC Infotech, the wholly-owned IT services subsidiary of ITC, focuses on developing deep and differentiated capabilities to enhance expertise in specific industry domains, business solutions and technologies. This steadfast focus on delivering enduring value to customers has formed the bedrock of the Company's growth strategy.
The Company has been successful in attaining differentiation in niches and continues to gain competitive advantage to strengthen market standing. Despite adverse market conditions and the global economic recession, ITC Infotech posted encouraging results for the Financial Year 2008-09.
Creating deep and differentiated capabilities
ITC Infotech acquired Pyxis Solutions, LLC, a US based niche player offering Quality Assurance (QA) solutions and testing services to leading investment banking institutions and companies in the Banking, Financial Services and Insurance (BFSI) segment. Pyxis offers a full spectrum of services in software QA, ranging from user-interface testing to QA process improvements. Pyxis services also include QA management and consulting, quantitative analysis testing and data validation testing.
Creating advantage through customised business solutions
ITC Infotech witnessed significant traction in customer acquisition through industry specific solutions developed to address unique business requirements, challenges in critical performance areas and regulatory compliance.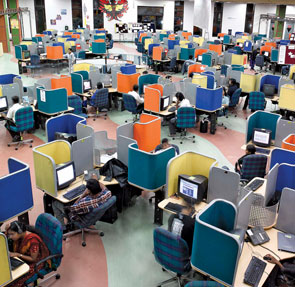 For the BFSI industry, the Company has launched numerous solutions including the 'iTrade Monitor', a comprehensive real time FIX (Financial Information Exchange) monitoring application, FIX Transformation services aimed at helping companies adopt the FIX protocol or migrate to higher versions, Payment Hub to facilitate consolidation of payment operations and SEPA (Single Euro Payments Area) validation test packs which enable companies access their SEPA readiness. With comprehensive knowledge of the RFID (Radio Frequency Identification) space, the Company has crafted RFID solutions facilitating real-time tracking and monitoring. Having implemented the world's first of its kind CRM based loyalty solution for Finnair, ITC Infotech's suite of Loyalty Management solutions aims at significantly improving effectiveness of loyalty programmes. For the media and entertainment industry, the Company has launched Metadata Management solutions to implement and revamp metadata using Metamodels.
ITC Infotech has also tailored accelerated offshoring services aligned with customer needs of significant reduction in the Total Cost of Ownership (TCO) and faster Return On Investment (ROI). The Company has developed industry specific SAP templates, over and above SAP best practices, enabling faster implementation.
ITC Infotech's solutions and customer case studies are being showcased at prime global industry fora and events.