2nd Business Leaders' Programme
This four-day programme 'Strategies and Leadership for Creating Sustainable Organisations' was organised by the Centre for the 2nd time to train senior business executives in Sustainability Strategy. It was conducted in association with Cornell University, The Johnson School, Centre for Sustainable Global Enterprise and was led by Prof. Stuart Hart, Samuel C. Johnson Chair in Sustainable Global Enterprise.
Over 25 senior managers (Vice Presidents, GMs and others) from various businesses and NGOs participated in this programme.
3rd Sustainability Summit Asia 2008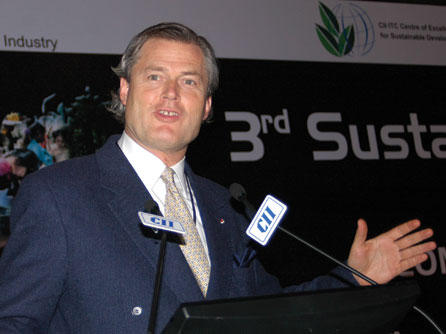 The CII-ITC Centre of Excellence in association with Development Alternatives, held its 3rd Annual Summit in December 2008. The Summit with the overall theme of Competitiveness Redefined deliberated on how sustainability challenges provide opportunities to innovate sustainable solutions and build competitiveness. The focus themes of the Summit were: Innovation, Climate Change, South Regional Cooperation, CSM in Indian Companies, Corporate Governance, BoP and Green Construction.
The Summit was inaugurated by Mr. Somnath Chatterjee, then Speaker, Lok Sabha. Over 400 representatives mainly from Industry attended the Summit.