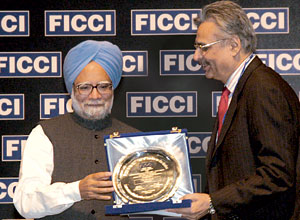 FICCI Outstanding Vision Triple Impact Corporate Award 2007 for exemplary triple bottom line performance.
The Development Gateway Award in 2005 for its trailblazing e-Choupal initiative. ITC is the first Indian company and the second in the world to win this award for the importance of its contribution to development priorities like poverty reduction, its scale and replicability, sustainability and transparency.
Wills Lifestyle rated amongst the top 5 Luxury brands in the country in a Global Luxury Survey conducted by TIME Magazine.
The inaugural 'World Business Award' in 2004, that recognises companies who have made significant efforts to create sustainable livelihood opportunities and enduring wealth in developing countries.
Sustainability Leadership Award 2007 conferred on Chairman Y C Deveshwar by the Sustainability Forum, Zurich and SAM/SPG at the International Sustainability Leadership Symposium.
The Corporate Social Responsibility Crown Award for Water Practices from UNESCO and Water Digest for its distinguished work carried out in the water sector in India.
The Corporate Award for Social Responsibility 2008 from The Energy and Resources Institute (TERI) in recognition of its exemplary initiatives in implementing integrated watershed development programmes across 7 states in India. The Company also won the award in 2004 for its e-Choupal initiative.
NDTV Profit Business Leadership Award for being the Best Food Company of 2007. The Award has been instituted to recognise organizational excellence.