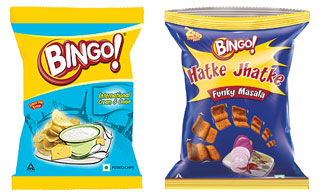 Bingo! International Cream & Onion
Riding high on its reputation of offering great combinations, Bingo! now has a new addition to its unique exciting range. In sync with the Bingo! concept, this variant brings with it a unique combination of cheese, cream and spring onions, giving it a truly international flavour.
Bingo! Hatke Jhatke
Finger Snack 'Hatke Jhatke', appropriately shaped like a wave, has been launched in two exciting flavours - Funky Masala and Tomato Twist.