ITC Infotech continued to make rapid progress and strengthened its presence in the IT services and solutions space, despite challenging market conditions.
Accelerated customer acquisition and scaling up existing customer engagements formed the foundation of the Company's growth strategy. The Company's focus on developing industry-specific solutions and partnerships yielded significant traction. The emphasis on delivering superior customer care yielded significant improvement in customer satisfaction scores.
The Company completed the integration of Pyxis Solutions, an acquisition made earlier in the US, resulting in significant enhancement of capabilities and domain expertise for providing testing solutions to the BFSI segment.
The differentiated capabilities of ITC Infotech were acknowledged by several analysts. The Company received a spate of mentions in analyst reports and recognition across industry fora.
Talent Management
ITC Infotech nurtures its employees through a series of intensive training and development programmes to help them actualise their potential. The over arching objective is to ensure a wholesome and challenging job profile for each individual, thereby constantly aligning individual aspirations to organisational needs. ITC Infotech offers global careers, global exposure and diversity of opportunities to create business and technology leaders of tomorrow.
ITC Infotech has launched a Centre of Excellence for Project Management. This is a focused approach towards building enhanced skill-sets, incorporating best practices and creating a knowledge-repository.

| | |
| --- | --- |
| The Company became the first Indian IT company to receive the prestigious Social Accountability (SA) 8000:2008 certification. SA 8000 is widely accepted as the most viable and comprehensive international workplace management system. | |
Enhancing Service Delivery by Expanding Geographic Reach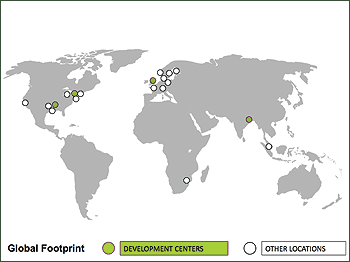 ITC Infotech has expanded its geographical footprint with the opening of its office in Johannesburg, South Africa. The Company is now better positioned to add value to South African companies by optimising their IT landscape and maximising returns from IT investments. The new office will provide ITC Infotech with a strategic advantage to leverage emerging opportunities, while continuing to serve its existing customer base in the region. The Company has made significant headway in South Africa and will explore strategic partnerships in the region.
ITC Infotech has entered into a strategic partnership with Trivadis AG, a highly successful regional IT services company headquartered in Zurich, to facilitate cost optimisation and expansion of services across Switzerland, Germany and Austria. The vast knowledge base and best practices of both partners will deliver substantial cost optimisation and value-added services to its customers.
Last year, the Company strengthened its presence across the Nordic region with offices in Sweden and Netherlands.