Aashirvaad Atta with Multigrains
The latest addition to the Aashirvaad Atta range, it is a wholesome blend of wheat, soya, channa, oat, maize and psyllium husk - and a nourishing source of vitamins, proteins, dietary fibre and minerals.


Sunfeast Marie Light
Sunfeast Marie Light with its unique mild and non-interfering taste provides the perfect accompaniment to tea or coffee. Compared to other offerings, it has thrice as much fibre to keep one light and healthy.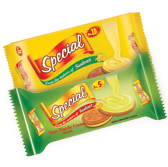 Special Creams from Sunfeast
Special Creams adds more mouth-watering marvels with its new Tasty Elaichi Cream and Tasty Pineapple Cream.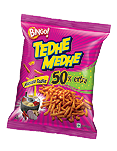 Bingo! Tedhe Medhe
Another lip-smacking finger snack from Bingo! with a great spicy combination.


Kitchens of India Masala Mixes
A rich creation of masala mixes launched for stirring up a gourmet meal. The range includes mixes for vegetarian dishes like Paneer Makhani, Vegetable Biryani and for non-vegetarian dishes such as Butter Chicken, Chicken Curry, Mutton Kolhapuri and Hyderabadi Chicken Biryani.


mint-o Gol
mint-o, the popular mint brand, introduces a delicious chewy candy in mint and orange flavours.