Business Responsibility Report
Quality Goods and Services for Sustainable Value Creation
The Company's strategic intent to create enduring value by investing in the businesses of the future finds expression in the development of strong capabilities in R&D, innovation and technology. This is exemplified by institutional strengths such as deep consumer insights, brand building capability, trade marketing and distribution reach, focus on quality and world-class manufacturing practices, strong rural linkages and outstanding human resources.
Quality of goods and services is at the core of sustainable value creation. In ITC, this is manifest in the creation of world-class brands driven by unwavering attention to efficacy of design, processes, sourcing and distribution in order to provide superior and differentiated offerings to customers. Some of these elements are briefly touched upon below:
Maximising Resource Efficiency
The Company is a pioneer in optimising resource use and efficiency, including common resources such as water and air. Life Cycle Assessment studies have been carried out for several of the Company's products to understand the impact across the value chain. Resource efficiency is integrated into product and process design and is addressed in the creation of physical infrastructure, the operations phase, logistics and waste management.
Such concerted efforts, to cite some examples, are evident in the Company's most resource-intensive business, the Paperboards and Specialty Papers Division, where continuous improvements have been made in energy and water usage. Similarly, the Hotels Division has also demonstrated high levels of resource efficiency by achieving LEED (Leadership in Energy and Environmental Design) Platinum certification for all its luxury properties. Several of the Company's factories have also received IGBC (Indian Green Building Council) certification.
Sustainable Consumption
The Company strives to ensure sustainable consumption of energy, water and other resources in its businesses. The Paperboards and Specialty Papers Division has been rated the most energy efficient in the Indian Paper and Paperboard sector by the Centre for Science and Environment, New Delhi (Challenge of the New Balance, CSE, 2010) and is also an acknowledged leader in low-carbon operations, water and resource usage efficiency. This exemplary performance has been achieved by reducing specific energy consumption, increasing the share of renewable energy sources in total energy consumption, bringing marginal and low-productivity land under forest cover, recycling and reuse of waste generated and increasing the usage of recycled paper fibre.
In 2012-13, the freshwater intake at the Paperboards Unit in Bhadrachalam was 46.4 kilolitres per tonne of finished product, much below the standard of 63 kilolitres per tonne proposed by the National Productivity Council (NPC) for large-scale integrated pulp and paper mills.
The Hotels Division pioneered the concept of 'Responsible Luxury' and created design interventions which have enabled optimisation in usage of energy and water. The LEED Platinum certification for all luxury hotels of the Company, makes 'ITC Hotels' the greenest luxury hotel chain in the world.
ITC, for the past 6 years, has been recycling over 98% of the waste generated by the Company's units. The Company also operates within a comprehensive waste management guideline which covers hazardous waste and e-waste as well.
Beyond Boundaries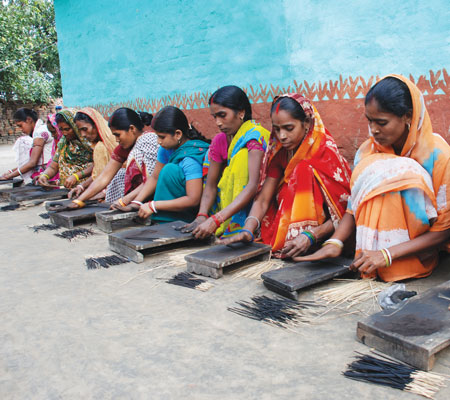 Vendors/service providers and significant outsourced manufacturing facilities are encouraged to follow procedures detailed under ISO 9001, ISO 14001, OHSAS 18001 and ITC's Corporate Environment Health and Safety (EHS) Guidelines. Contract manufacturing agreements provide for compliance with EHS, human rights and labour practices in line with ITC's Guidelines.
Most of the outsourced manufacturing units of the Foods Business are HACCP (Hazard Analysis and Critical Control Point) certified and are working towards improvement in energy conservation. These interventions are some examples of ITC extending its sustainable business practices across the supply chain.
The Company works in close partnership with cottage and small-scale units in businesses such as Safety Matches and Agarbattis as well as Education & Stationery Products leading to enhancement of the competitiveness of a number of units in these sectors. The Safety Matches and Agarbattis Business supports over 18,000 sustainable livelihoods, mainly amongst poor rural women. Similarly, the collaborative supply chain established by the Company's Education & Stationery Products Business provides indirect employment opportunities to over 5,000 people.
Responsible Sourcing
As a Company with significant agri-based businesses, ITC has, for several decades, empowered farmers and forged strong relationships with rural communities which enable sustainable sourcing solutions. Recognising that poverty in rural India is primarily a result of the poor capacity of farmers in terms of access to knowledge, information, price discovery, quality agricultural inputs and markets, the Company has devised unique business models for agri-sourcing that not only support sustainable agriculture but also contribute to substantial livelihood creation for inclusive development.
The globally acknowledged ITC e-Choupal initiative has transformed rural communities into vibrant economic organisations by leveraging information technology, providing customised extension services and training through 'Choupal Pradarshan Khets' (demonstration farms). Farmers have also been empowered through the establishment of integrated rural services hubs called 'Choupal Saagars'. The transparency and effectiveness of the e-Choupal system have contributed towards increasing rural incomes, whilst ensuring sustainable agri-sourcing for the Company's businesses. The Company also promotes environmentally sustainable farm practices, such as zero tilling, micro-irrigation and watershed development. It also works closely with marginalised and disadvantaged farmers towards sustainable sourcing of agri-commodities.
Product Labelling
Robust internal systems complemented by external verifications ensure that the Company's products are compliant with applicable laws and regulations with respect to product labelling. Effective systems have been established to respond to queries and address concerns of consumers.
For more details, please refer to the ITC Sustainability Report 2013.