Thought Leadership in Sustainability
The CII-ITC Centre of Excellence for Sustainable Development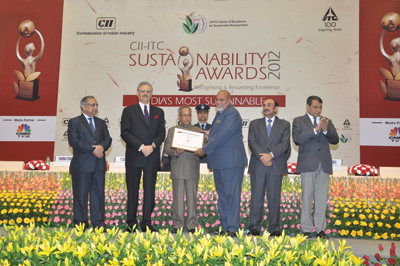 The CII-ITC Centre of Excellence for Sustainable Development is a co-creation of the apex national Chamber, the Confederation of Indian Industry, and ITC. With its abiding objective of promoting sustainability amongst corporates, the Centre is engaged in a wide spectrum of value-added and targeted services. By creating awareness in business and industry, providing thought leadership, building capacity of organisations and professionals and rewarding exemplary performances, the CII-ITC Centre has become a unique focal point for sustainability practices. The Centre is steered by its Advisory Council, led by Chairman, ITC Limited, Mr Y C Deveshwar and comprises members from industry, government, civil society and institutions which provide strategic direction to the organisation.
During the year, the Centre trained and raised awareness of over 2,000 business managers on various sustainability issues. It has expanded its gamut of activities to meet the core objectives of creating awareness, promoting thought leadership and building capacity amongst Indian enterprises in their quest for sustainable growth and business solutions.
The 7th Sustainability Summit continued its legacy of bringing thought provoking leaders together to share the challenges, long term strategies and best practices for sustainable and inclusive development. It featured senior politicians, bureaucrats, best brains of Indian industry and MNCs around the globe. The Summit and Exhibition were attended by over 300 participants. The 'CII-ITC Sustainability Awards', instituted to recognise excellence in sustainability performance, have honoured a large number of leading Indian companies and provided encouragement to many others. The winners of the Awards 2012 were announced at an imposing function in Vigyan Bhawan, New Delhi, on January 14, 2013 amongst an audience of 1,500 people. The occasion was graced by the Hon'ble President of India, Shri Pranab Mukherjee, as the Chief Guest.
The Centre is today playing a major role in engaging with policy makers to create an environment that encourages the adoption of sustainable business practices. The Centre has been engaged with various stakeholders for advocacy on Clause 135 of the new Companies Bill 2012, which refers to the CSR activities of a company. The Centre is a consulting partner in several policy interventions such as Green Guidelines for Public Procurement, Low Carbon Expert Group of the Planning Commission, National Innovation Council, Ministry of Corporate Affairs on CSR Policy, National Awards for Prevention of Pollution, Rajiv Gandhi Environment Awards for Clean Technology and Technology and Finance Committee under the Montreal Protocol. It is also represented on the Board of the Central Pollution Control Board and other bodies.