Business Update
ITC Infotech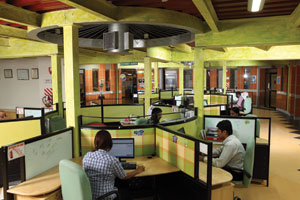 ITC Infotech continues to progress on its robust growth path with relentless focus on customer-centric value expansion initiatives. This progress is manifest in the company's robust financial and qualitative outcomes achieved during the year. ITC Infotech has successfully leveraged its established credentials in niche technologies and white spaces in business domains, as well as its increasing repertoire of specialisations, to deliver consulting, IT services and solutions to customers across the globe.
In a recently conducted customer satisfaction survey, the company has scored the best in its class, a testimony to its ability to deliver superior customer satisfaction. The high degree of customer satisfaction has led to enhanced business opportunities for the company and has resulted in several multi-year multi-million contracts. It is indeed noteworthy that 9 out of the top 10 customers of ITC Infotech have partnered with the company for over 5 years, a reflection of the company's deep & strategic engagements.
As the President and COO of a leading player in the financial software industry said, "... excited to extend our partnership with ITC Infotech ... our long standing partnership with ITC Infotech has enabled us to help deliver value to our customers... and we look forward to working collaboratively with ITC Infotech on extending these services ...". The CIO of a global leader in the chemicals industry said, "ITC Infotech puts in a lot of effort to understand our needs and requirements. The quality of people, services and work differentiates the company."
The achievements of ITC Infotech are powered by its pool of talented employees. The company is constantly focussing on nurturing this pool by aligning its processes, implementing employee-friendly policies, creating excitement at the workplace and, above all, inculcating a strong sense of belonging amongst its workforce.
R&D remains a key focus area for ITC Infotech. The company has invested in building capabilities and solutions in the Auto-id (RFID) space. After successfully launching the container and asset tracking solutions, ITC Infotech has launched a comprehensive vehicle tracking solution, which has commenced generating valuable insights and information in the supply chain and distribution processes of its parent's FMCG businesses.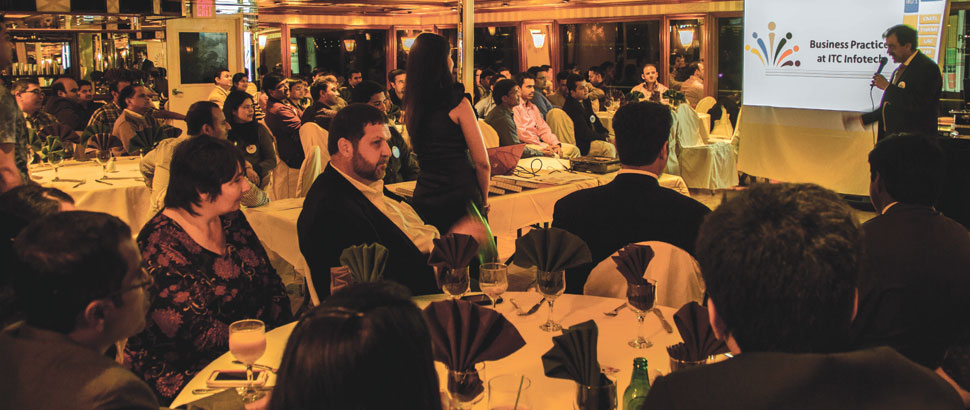 ITC Infotech has featured in the Leaders' Category of the "2012 Global Outsourcing 100" by the International Association of Outsourcing Professionals (IAOP) for the 7th consecutive year and in the "Global Services 100" for eight years in a row.
An important pillar of the company's growth has been its strategic and long standing partnership with global IT product majors. ITC Infotech has invested in partnerships with key Independent Software Vendors in Application Packaging, Windows 7/8 remediation and application deployment. Its relationship with Parametric Technology Corporation (PTC), a leading global technology solutions company, was expanded through the launch of Product Lifecycle Management (PLM) operations in Europe and offering of turn-key services from licence sales to implementation. During the year, the company became the first PTC Authorised Training Partner (ATP) in India. As part of the ATP programme, the company set up a state-of-the-art training centre in Bengaluru to provide the full range of training services on all PTC Windchill modules. This will contribute to the career enhancement of professionals and create a pool of highly skilled resources for the entire PLM industry.
Oracle has selected ITC Infotech as a preferred implementation partner for delivering customer experience solutions to the world's largest FMCG companies in the Consumer Packaged Goods (CPG) and Life Sciences verticals.
The company has also attained Microsoft Gold competency accreditation in Business Intelligence, taking its tally to 6 gold and 2 silver competency accreditations.
Leading global research firms, like Gartner and Forrester, have recognised ITC Infotech in more than 20 publications. A strong visibility in such research formats is an acknowledgement of ITC Infotech's competencies, its geographic presence, leadership focus, profitability and customer satisfaction.
ITC Infotech has featured in the Leaders' Category of the "2012 Global Outsourcing 100" by the International Association of Outsourcing Professionals (IAOP) for the 7th consecutive year and in the "Global Services 100" for eight years in a row. ITC Infotech has also been placed in the 2013 CRM Watchlist category, 'The Ready to Leap companies for 2013', under the category, 'Consulting'. The CRM Watchlist award recognises technology companies that are expected to make a significant impact in the market with customers and in the industry they represent in the following year.
The company continues to showcase its capabilities and solutions at major global IT events. This includes some of the biggest events across the globe such as:
SAPPHIRENOW, SAP's largest annual event, hosted in Orlando, Florida, where ITC Infotech was invited to be part of a panel discussion on driving sustainability.
Oracle OpenWorld 2012, Oracle's flagship event, where ITC Infotech's customers & subject matter experts were speakers and panelists on a wide variety of topics including customer experience management, loyalty, Seibel OpenUI and new generation mobility solutions etc.
ITC Infotech has steadily increased its global footprint and is in the process of opening an office in Dubai. It has identified great business potential in West Asia and has accordingly placed business development personnel in the region to drive growth in select segments. It has also opened a centre in Thiruvananthpuram in Kerala to supplement the global delivery platform.
Technology has transformed the way organisations run their businesses, disrupting traditional models, changing industries and creating and destroying companies. Media, retail and healthcare sectors have all witnessed dramatic developments in technology-driven workflows. Social Media, Mobility, Analytics and Big Data, and Cloud Computing, commonly referred to as "SMAC" technologies, are rapidly changing communication, collaboration and delivery channels. ITC Infotech is actively pursuing a combination of building capabilities and rapid deployment in chosen areas, thereby ensuring an exciting and growth oriented future for this arm of ITC.