ITC Limited
Sustainability Report 2013
Environmental Performance
Material Sustainability
In ITC's Businesses
The Agro-forestry programme was kicked off in the month of April, 2010 and so far 2427 hectares of land has been covered under this model
ITC's New Initiative on Sustainable Agroforestry For Wood And Food Security
A new concept named as "Agro-forestry Model" has been evolved after a series of experimental trials with different planting geometries. Under this model, pulpwood trees are planted in rows leaving a wide gap of 8 m between rows to allow maximum sunlight for growing food crops. The primary advantage of this model is that every year, the farmer can cultivate food crops and also harvest the trees after 4 years interval. The food crop facilitates an additional annual income for the farmers and in case of the food crop loss due to drought, flood, pest, diseases, etc the income from the tree harvest would hedge the risk for the farmers. It is noteworthy that the land allocation to forestry in such models is only 25% and the remaining 75% land is available for agriculture crop. This programme was kicked off in the month of April, 2010 and so far 2,427 hectares of land has been covered under the Agro-forestry model.
Forest Stewardship Council® Certifications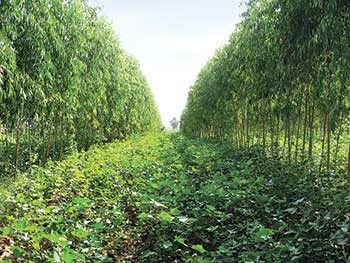 Further consolidating ITC's Triple Bottom Line performance, the four units of ITC's Paperboards and Specialty Papers Division i.e Bhadrachalam, Bollaram, Kovai and Tribeni, received the prestigious 'FSC® Chain of Custody' Certification from 2009 onwards and have been maintaining it.
The FSC (Forest Stewardship Council) is an independent, non-governmental; not-forprofit organisation established to promote the responsible management of the world's forests and is recognised as the gold standard in wood certification for ethical and legal sourcing. The FSC is represented in more than 107 countries around the world, and is the most widely accepted and respected amongst forest product certification schemes.
FSC endorsement implies that an organisation complies with its principles and criteria in the different areas of its functioning. ITC's Paperboards & Specialty Papers Division can now supply FSC certified paper/paperboards from all its four Units with the FSC certification of 'FSC Mixed' or 'FSC Recycled'. The FSC logo on products enables customers to buy our products with confidence knowing that the products/ packaging are from legal, sustainable and well managed sources.
The FSC certification for ITC's Paperboards and Specialty Papers Units exemplifies the organisation's continued commitment to sustainable business practices and to the building of an inclusive and secure future for both its stake holders and the larger society.
In continuation of its commitment to expand its scope, the organisation also got about 8,028 hectares of plantations owned by more than 9,000 small and marginal farmers certified for FSC – Forest Management with ITC as Group Manager. This ensures more supply of FSC certified wood to its operations thereby giving options of reaching more certified material to the market. This certification brings better environmental practices and improves social benefits to the community around the Khammam district of Andhra Pradesh where the farm plots are located. ITC is planning to bring in more areas under the above group certification in the future.