ITC Limited
Sustainability Report 2013
Stakeholder
Engagement
Employees
Each Business focusses on engaging with employees on a regular basis as well as based on specific requirements through communication meetings, workplace interactions, mentoring and suggestion schemes, employee/manager surveys and talent recognition programmes
ITC recognises that the creation of a high quality human resource team to drive the businesses of tomorrow requires focus on providing personal development and growth, a work culture that ensures high levels of performance, provides world-class learning experiences and a caring & empowering work environment.
Our unique employee value proposition is backed by strong corporate equity enabled sustained engagement in challenging times. Each business focuses on engaging employees through communication meetings, mentoring, suggestion schemes, engagement surveys and talent recognition programmes.
ITC's remuneration philosophy recognises performance and meritocracy, whilst remaining competitive and sustainable. The Company fosters a culture that rewards performance, continuous learning, collaboration and capacity development across the organisation to be future-ready and meet head-on the challenges posed by ever changing market realities.
To address employee concerns, ITC units have a structured grievance redressal mechanism to enable all grievances to be resolved in a just and amicable manner. A grievance redressal committee, comprising representatives of both unionised employees and managers, has been instituted to address their concerns. ITC's unswerving belief in the mutuality of interests of key stakeholders, binds all employees to a shared vision and purpose. ITC's units engage with employee representatives and unions, thereby strengthening the collaborative spirit across all sections of employees.
Farmers
To improve the quality and effectiveness of the interventions, we bring in professional/ technical agencies to introduce appropriate technologies that complement traditional methods of farming, conserving water, soil and nutrients
Farmers are an important value chain partner for ITC and we continue to engage with them through a large gamut of interventions. A primary cause of rural poverty is the vicious cycle of low productivity, low income and low capacity to invest that continues to plague Indian farmers. Addressing the root cause of these challenges, ITC co-created the e-Choupal initiative with farmers to provide information and knowhow on agricultural best practices, transmission of market signals, transparent discovery of prices, timely and relevant weather information, access to quality inputs, and most importantly, efficient market access. The ITC e-Choupals, managed by trained farmers (sanchalaks), helped the agricultural community access ready information in their local language. In addition, ITC worked closely with farmers to enhance agri productivity through demonstration farms and customised extension services, apart from creating physical infrastructure in the form of integrated rural services hubs. The ITC e-Choupal initiative has empowered over 4 million farmers in 40,000 villages, raising rural productivity and incomes.
Similarly, ITC works closely with farmers in its Social and Farm Forestry programme to provide a wide spectrum of extension services that impart knowledge and knowhow to farmers through dedicated farmer training programmes. In addition, farmers have been benefitted by the extensive R&D programme for clonal propagation which gives them high yielding quality saplings which are disease resistant, can grow in shorter time spans and in difficult terrains such as wastelands. This initiative has created over 64 million persondays of employment for farmers in the state of Andhra Pradesh.
Suppliers
The Company's supplier (both national and international) engagements are supported by policies, processes and best practices that ensure that procurement activity is conducted in an open, transparent and nondiscriminatory manner. Strong processes are in place to identify/develop and qualify vendors on the basis of supply assurance, innovation quotient, product quality and value for money considerations.
Formal competitive processes are established and documented discussions, recommendations and decisions underlay all procurement activity. Sole sourcing (to the extent possible) and retroactive Each Business focusses on engaging with employees on a regular basis as well as based on specific requirements through communication meetings, workplace interactions, mentoring and suggestion schemes, employee/manager surveys and talent recognition programmes 44 SUSTAINABILITY REPORT GOVERNANCE, COMMITMENTS AND ENGAGEMENTS contracting are avoided. Contracts are tested for regulatory compliance and supplier deliverables cognise for environmental, health and safety legislation.
All businesses of the Company have modern facilities and use state of the art technologies to ensure benchmarked quality and value. Accordingly, the Company sources specialised production machinery from reputed international as well as Indian manufacturers – across large, medium and small scale sectors. Utility machinery such as boilers, generator sets, air-conditioning and refrigeration machinery and electrical & electronic systems are sourced largely from Indian or India based suppliers. Competent Indian contractors carry out construction and renovation of new manufacturing facilities, hotels, warehouses & offices. Nearly 90% of raw materials and 70% of spare parts and components have been locally procured during the year.
The Company actively encourages competency development among local vendors and its vendor base includes numerous medium and small scale enterprises that are close to its manufacturing locations. Where appropriate, vendors are provided technical support and managerial inputs to enable them to move in tandem with the Company's business plans. The Company also supports several vocational training initiatives in areas close to its operations. These have been effective in empowering youth with requisite skills and increased opportunities for entrepreneurial development. In addition, the Company has continued to set up sourcing centres in rural India for several of its product categories, both directly and in collaboration with various State agencies and NGOs to assist in the creation of sustainable livelihoods.
Community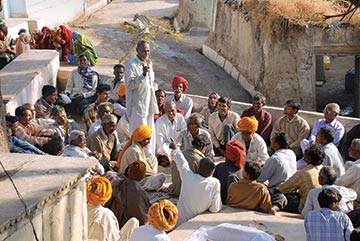 ITC's agri-businesses have forged a long and enduring partnership with rural communities. Their initiatives contribute to empowering these communities to conserve and manage their natural resources, create sustainable onand off-farm livelihoods and improve social infrastructure, especially in areas where it impacts women and children. ITC has put in place village-level institutional mechanisms which help transform rural communities into vibrant economic organisations and empower stakeholders with enhanced incomes and livelihoods.
A good example is ITC's Watershed Development programme which promotes local management of water resources by facilitating community-based participation in planning and executing watershed projects. Adopting a bottom-up participatory approach with disadvantaged sections as the primary target, ITC works with communities to mobilise them and form Water User Groups. These Groups are trained to carry out the entire spectrum of activities from planning to execution and maintenance of water harvesting structures. Groups are also trained to formulate regulations and fix water user charges, which go towards creating a fund used to maintain existing structures, build new ones and tap government schemes.
Government
ITC interacts through industry bodies and various other forums with Government/ Regulatory Authorities on aspects relating to public policy frameworks. ITC, in partnership with CII, has supported the creation of a unique institution — The CII-ITC Centre of Excellence for Sustainable Development — to promote thought leadership, recognise sustainability champions and build awareness as well as capacity on issues related to sustainable development and inclusive growth.