The year 2004-05 was witness to significant enhancement in ITC's market standing in its newer FMCG businesses. New product launches, growing consumer acceptance and increasing market shares point to rapid progress towards leadership position.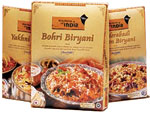 Kitchens of India Biryanis:
Kitchens of India added four Biryanis to its range of heat and eat gourmet classics. Bohri, Yakhni, Noormahal and Hyderabadi. These are complete meals by themselves. These recipes are the creation of the Master Chefs of ITC's hotels, based on time honoured culinary traditions and methods.
Sunfeast Pasta:
ITC launched India's first instant pasta snack, Sunfeast Pasta Treat. Made from high protein Durum wheat, Sunfeast Pasta Treat is not fried and does not contain maida, making it a nutritious snack. This ready to cook pasta comes with a saucemaker inside the pack. It is currently available in four exciting flavours: Masala, Tomato and Cheese, Sour Cream Onion and Cheese.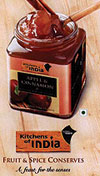 Kitchens of India Fruit and Spice Conserves:
Kitchens of India Fruit and Spice Conserves are delicious innovations inspired by the Master Chefs of ITC's hotels, combining juicy fruits with zesty Indian spices. These are available in startling combinations of Apple & Cinnamon, Pineapple & Green Pepper, Strawberry & Mint and Plum & Star Anise.
Kitchens of India launched yet another masterpiece in the form of delectable Chutneys, a perfect accompaniment to a luscious meal. The four variants are Shredded Mango, Mango Jeera, Mango Garlic and Tamarind Date chutneys.

Aashirvaad Spices:
Following the success of Aashirvaad Atta and Salt, ITC has now introduced Aashirvaad Spices - Chilli Powder, Turmeric Powder and Coriander Powder. Prepared from carefully selected high quality whole spices, sourced directly from farmers, Aashirvaad delivers purity and aroma. Ensuring perfect balance in colour and taste.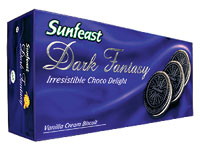 Sunfeast Dark Fantasy:
A special indulgence, Sunfeast Dark Fantasy is a cookie for the connoisseur. An outer crust made of aromatic cocoa with smooth vanilla cream inside, Sunfeast Dark Fantasy is an irresistible choco delight.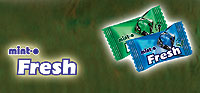 mint-o Fresh:
The product range in the Confectionery segment was expanded with the introduction of mint-o Fresh deposited candies in two unique flavours
– clove and eucalyptus.