ITC Limited
Sustainability Report 2013
Social Performance
Labour Practices
And Decent Work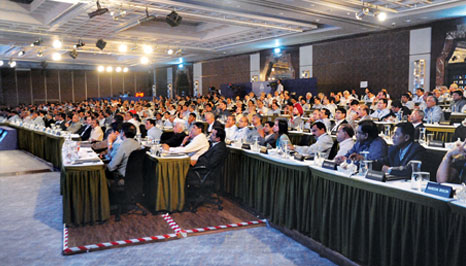 Attrition
ITC's unique employee value proposition and the integrated approach to managing human resources enabled attraction, retention and motivation of employees. The overall attrition across management and non-management employees for 2012-13 was 12%.
Learning and Development
Learning & Development (Average per employee for each employee category)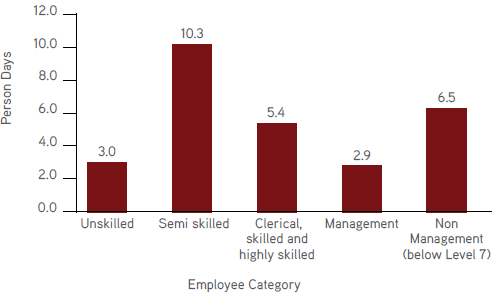 ITC's Learning and Development initiatives are geared to 'Build ITC's talent and leadership pipeline to power our engines of growth and enhance organisational capability to compete, win in the market place and create enduring value for our stakeholders.' The Capability Development Agenda flows from ITC's Mission, ITC's Strategic Agenda, the 3-Horizon Growth Strategy and ITC's Vision.
Learning and Development initiatives offered during 2012-13 were aligned with this agenda. The on-going core programmes were revitalised to reflect the emerging capability requirements. In addition to core programmes, customised programmes were also offered to address the needs expressed by businesses, aimed at building specific capabilities at various levels of the organisation.
Planning for initiatives in this area begins much before the commencement of the year and flows from the various Business Plans and capability requirements emerging thereof. Business HR teams work closely with the Corporate HR team in implementing the initiatives for Learning and Development. Employee training at the factory level is undertaken after assessment of skill gaps or after evaluation of emergent technology or skill needs. The process is proactive and well-structured.
In 2012-13, more than 1,42,000 person-days of formal training were organised for employees at various levels. In addition, on-the-job learning opportunities were provided to a cross-section of employees supported by inputs from peers and superiors.