ITC Limited
Sustainability Report 2013
Environmental Performance
Towards

100% Recycling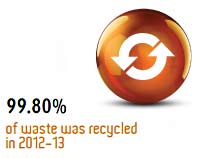 Since generation of waste cannot be completely eliminated due to limitations in processes or technology, all ITC Businesses/Units are mandated to ensure recycling of entire (100%) waste generated. This not only conserves precious natural resources and energy but also prevents waste from reaching landfills, with all its attendant problems like health hazards, increase in GHG emissions, soil and ground water contamination, etc.
In addition, Recycling also creates significant employment opportunities for the marginalised sections of society.
Waste Destination
We have ensured recycling of 99.8% of the total waste generated in all the ITC Business Units.
It is noteworthy that ITC's Unit at Bhadrachalam, which is India's largest integrated Paper & Paperboards mill, recycled 99.9% of its waste in 2012-13.

In 2012-13, ITC generated 2,87,950 tonnes of fly ash, (42% of total waste in ITC), 100% of which has been utilised for brick making and cement manufacturing.
In line with our commitment to consolidate our waste recycling positive status, many of our Units, have already achieved total recycling of waste generated out of their operations.
The following Units reused/recycled the entire waste (more than 99%) generated from their operations:
Cigarette factories at Munger, Bengaluru, Saharanpur, Kolkata and Pune, Paperboards & Specialty Papers Units at Bhadrachalam and Tribeni, Personal Care Business Units at Haridwar, Foods Business Units at Haridwar (Snacks) and Pune, Packaging & Printing Business Unit at Tiruvottiyur, Leaf Threshing Business Unit at Anaparti, Research Centre at Rajamundry, ITC Green Centre at Gurgaon, Surya Nepal's Cigarette factory at Simra, and ITC Hotels - ITC Maurya, ITC Maratha, ITC Grand Central, ITC Windsor, ITC Mughal, ITC Gardenia, ITC Kakatiya, ITC Sonar, My Fortune Chennai, ITC Rajputana and Sheraton New Delhi.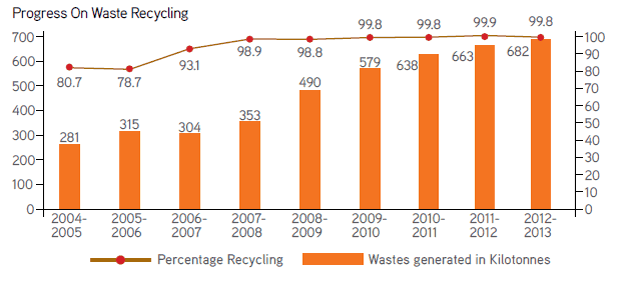 Waste Used As Raw Materials
As depicted above, the high degree of recycling achieved across ITC's Units together with the use of post consumer waste by the Paperboards and Specialty Papers Units at Kovai and Bhadrachalam create yet another positive environmental footprint.
| | | | | | | |
| --- | --- | --- | --- | --- | --- | --- |
| | 2007-08 | 2008-09 | 2009-10 | 2010-11 | 2011-12 | 2012-13 |
| Total waste generated (tonnes) | 3,52,970 | 4,90,180 | 5,78,865 | 6,38,405 | 6,63,796 | 6,82,405 |
| Waste recycled (tonnes) | 3,49,264 | 4,84,287 | 5,77,766 | 6,37,452 | 6,62,978 | 6,81,129 |
| % Recycled | 98.90% | 98.80% | 99.80% | 99.80% | 99.90% | 99.80% |
| Un-recycled waste (tonnes) | 3,706 | 5,893 | 1,099 | 953 | 818 | 1,276 |
| External wastes used as raw materials (tonnes) | 1,63,245 | 1,25,337 | 1,25,931 | 1,19,002 | 1,15,414 | 1,18,462 |
| Waste recycling footprint (%)* | 145 | 124 | 122 | 119 | 117 | 117 |
* Waste Recycling footprint (%): (Waste recycled + external waste used as raw material) X 100 /Total waste
generated in ITC