ITC's strong portfolio of brands and products are supported by well-defined research and development strategies executed by the dedicated state-of-the-art 'ITC Life Sciences and Technology Centre' in Bengaluru. This Centre, an integral part of ITC's future-ready capabilities, is set to drive game-changing innovations for its businesses of tomorrow. The core of this strategy is to design and provide customised superior solutions that address the unique needs of the Indian consumer. A large pool of highly qualified scientists with global exposure relentlessly drives innovation that helps create world-class winning brands and growing value for the consumer.
A slew of innovative products are already in the market and there is a continuous pipeline of such products that are being readied for launch. Such innovation finds articulation in brand variants such as Aashirvaad Atta with Multigrains which is designed as a healthier nourishment option, smooth non-sticky Sunfeast Yippee! Noodles in a unique round block and Sunfeast Yippee! Chinese Masala – a unique combination of flavours which gives the consumer tasty Chinese noodles in minutes..
This spirit of innovation is also visible in a range of products developed for the Biscuits segment. This includes Sunfeast Dream Cream Butterscotch Zing that offers an innovative combination of sweet butterscotch and tangy Zing and Sunfeast Dark Fantasy Choco Meltz– a delightful triple layer structure of chocolate coating on the outside, crisp cookie in the middle and a luscious chocolate filling inside. Innovative products in the confectionery segment include mint-o Ultra mintz – India's most premium, sugarfree power mints packed in a stylish black case and Candyman Crème Lacto which is made with the goodness of milk and caramel with a rich, delicious crème filling.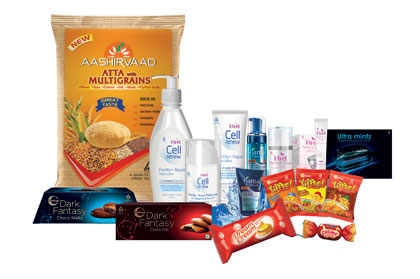 In the personal care products category, ITC has developed Liquid Crystal Freezing Technology for its Fiama Di Wills brand, a revolutionary method to freeze the goodness of shower gels in soap. Equally unique in their value propositions are the Fiama Di Wills Men Aqua Pulse De-stressing and brightening Face Wash, enriched with unique revitalising beads, the Fiama Di Wills Men Moisture Guard Instant Foam Wash with triple skin conditioners that hydrate deeply to combat rough and dry skin, the Vivel Cell Renew skincare range that repairs and fortifies skin at a cellular level with the power of Vitamin E and Vivel Perfect Glow which is a unique multi-layer skin tone perfector that works at every layer of the skin to lighten dark spots.