Business Responsibility Report
Policy Advocacy
The Company interacts with Government/Regulatory Authorities on public policy frameworks through apex industry institutions, like Confederation of Indian Industry, Federation of Indian Chambers of Commerce and Industry, Associated Chambers of Commerce and Industry of India, and various other forums including regional Chambers of Commerce.
The Company, for its social investment projects, organises meetings with the local administration and state governments to seek their participation and involvement. Their expert advice and counsel is also sought and approvals obtained, where required, for the planned interventions. The Company also engages in public-private-partnerships (PPP) with state governments for such projects.
The CII-ITC Centre of Excellence for Sustainable Development also interacts with Government and policy makers to promote sustainable development and inclusive growth through corporate action.
Supporting Inclusive Growth and Equitable Development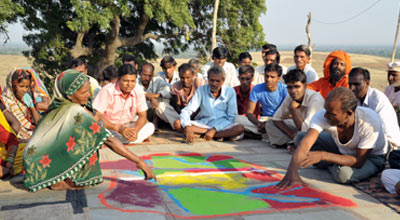 ITC is committed to establishing competitive and sustainable value chains linked to its businesses which create sustainable livelihoods, especially amongst the poor in rural India. Towards this end, a comprehensive Social Investments Programme, christened 'Mission Sunehra Kal', has been in operation for more than a decade. This programme strives to empower stakeholder communities to conserve and manage their natural resources, create sustainable on-farm and off-farm livelihoods on a significant scale.
To ensure long-term sustainability of these investments and to enable replication and scalability, these programmes are aligned and integrated with the business value chains of the Company.
In all Social Investments Programmes of the Company, interventions are undertaken through collective community participation and Community Based Organisations (CBOs) formed especially for the purpose. ITC's objective is to enable these CBOs to function autonomously and play an active role in the development process. All projects are planned and implemented through CBOs. Village micro-plans are formulated by the CBOs in consultation with the NGOs with ITC providing technical and managerial inputs. All decisions regarding interventions, rules/regulations and monetary transactions are collectively decided by CBO members with NGOs and ITC's dedicated Social Investments Team available for advice on all matters. The primary reason for making the CBOs responsible for the governance of projects is to empower them to function independently and thus become active vehicles of development in the area.
The projects promoted under the Social Investments Programme are spread over 60 districts across the country and the interventions reach out to more than 6 lakh households in over 6,500 villages.
ITC's Social Investments Programme includes the following initiatives:
Social and Farm Forestry
ITC's pioneering Social and Farm Forestry initiatives have added more than 17,000 hectares of plantations during 2012- 13 and cumulatively cover a total of over 142,000 hectares including substantial tracts of private wastelands belonging to tribals. These initiatives have generated over 64 million person days of employment for rural households including poor tribal and marginal farmers, besides increasing green cover. Of this, the Company's Social Forestry Programme currently covers 33,448 hectares in 1,717 villages, impacting nearly 40,000 poor households. The highlight of 2012-13 was to promote bio-diversity conservation as part of the Social Forestry programme, towards in situ conservation of the local flora and fauna in selected plots.
While the Social Forestry model has brought about tangible benefits to tribal and marginal farmers, the Farm Forestry model which now covers around 110,000 hectares has also brought significant economic benefit to the farming community engaged in this activity. A new Agro-Forestry model, incorporating inter-cropping practices where pulpwood trees are grown adjacent to agricultural crops, has been developed to address the twin objectives of sustainable fibre and food security. By integrating tree growing with crop production, the challenges of poor agricultural production, worsening wood shortages and environmental degradation can be simultaneously addressed. Furthermore, inter-cropping technologies/practices also help in reducing the pressure on the remaining natural forests and increases the diversity of vegetation on existing farms. The Company's initiatives under this model currently extend to nearly 2,500 hectares assuring wood and food security to the farmer from the same unit of land thereby addressing long-term sustainability.
Integrated Watershed Development Programme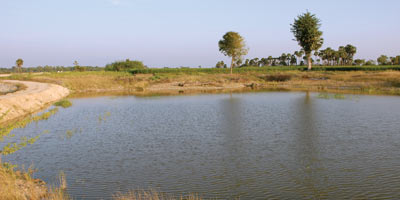 The Company's Watershed Development Programme promotes local management of water resources by facilitating community-based participation in planning and executing watershed projects. The total area covered under the watershed programme cumulatively stands at 116,127 hectares. During the year, the Company signed three new MOUs with the Government of Rajasthan for promoting sustainable livelihoods through watershed development in the districts of Bundi, Jhalawar and Pratapgarh under the government's Integrated Watershed Management Programme. With this, the total area to be brought under soil and moisture conservation through public-privatepartnership projects has increased to over 144,000 hectares.
Improved Agriculture Practices Programme
Mutually reinforcing ITC's Watershed Development Programme, the Company's agricultural interventions promote a combination of bio-mechanical solutions for optimising water management and enhancing land productivity to create a stable agricultural regime. These include building group irrigation wells to create a water sharing culture, promoting water-saving technologies like drip/sprinkler irrigation, propagating better agronomic practices through demonstration plots and organic manure application through composting methods.
Livestock & Dairy Development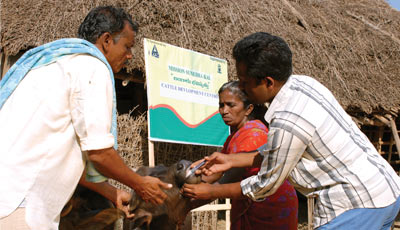 Livestock constitutes the second most important activity after agriculture in rural areas. The programme for genetic improvement of cattle through artificial insemination to produce high-yielding cross-bred progenies has been given special emphasis as it reaches out to the most impoverished and has the potential to enable them live with social and economic dignity.
Taking the next step in the development of a viable livestock economy, dairy development in Munger is a major focus area. 'Project Gomukh' was launched in Munger to provide veterinary services and comprehensive techno-management support to dairy farmers. The overarching objectives of the project are to significantly increase productivity and improve milk quality leading to enhanced farm incomes.
Economic Empowerment of Women
ITC's Women's Empowerment Programme, which creates supplementary incomes for rural women, is aimed at providing social dignity and economic independence to rural women through micro-enterprises and selfemployment. Cumulatively, over 40,000 women were gainfully employed either through micro-enterprises or assisted with loans to pursue income generating activities under this programme.
Supporting Primary Education & Skills Development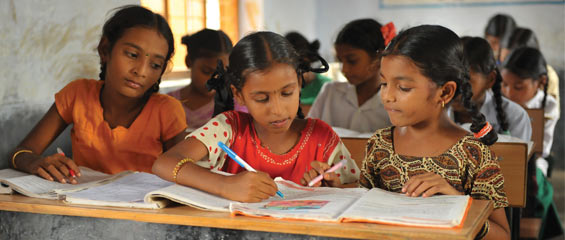 Over 40,000 new students were covered through Supplementary Learning Centres and Anganwadis during the year taking the cumulative number of students covered under this programme to over 300,000. Over 950 government primary schools have so far been provided infrastructure support by the Company, which includes benches, classrooms, toilets, electrical fixtures, compound walls and gates.
For more details, please refer to the ITC Sustainability Report 2013.