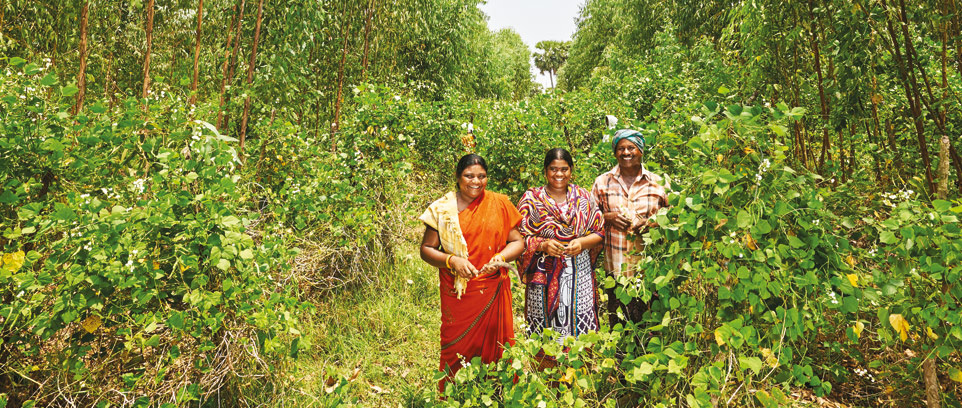 While India echoes many of the global challenges, issues like poverty, social inequities, unemployment, environmental degradation, water and food crises assume even more critical and multi-dimensional characteristics in India. Land pressure for instance, assumes greater significance in India which is home to 18% of the world's population, with only 2.3% of the world's land share.
Nexus of Social and Environmental Issues
India Inc. is faced with serious challenges due to water crisis. While agriculture accounts for around three quarters of all water used in India, rapid urbanisation and increasing demand from commercial and industrial users have added to the stress on already fragile water resources. According to a 2030 Water Resources Group Report2, India would face 50% aggregate gap between projected demand and existing water supply in 2030 due to high growth in agricultural, municipal and domestic demand. Despite substantial rise in demand, India's water supply remains constrained owing to inefficient use of water, over exploitation of ground water reserves without adequate recharge and variations in surface water availability because of erratic rainfall patterns.
Agriculture and allied activities remain the major source of livelihood for nearly half of the Indian population. The share of agriculture in employment was 48.9% of the workforce, while its share in the Gross Domestic Product (GDP) was 17.4% in 2014-153. However, deteriorating natural resource base, disconnected value chains, fragmented and small-size landholdings, weak infrastructure, inadequate knowledge and multiple intermediaries are the main reasons for low income among the average farmers. Furthermore, around 55% of India's total sown area meets its requirements from rainwater alone4. This assumes importance in the face of climate change related challenges of erratic rainfall leading to drought and floods. A majority of the farmers are hence trapped in a vicious cycle of low productivity. Therefore, there is a need to address these challenges by ensuring farming population's sustainable access to water, knowledge and other necessary resources, whilst simultaneously improving the productivity resulting in better income realisation. The surplus workforce from the agriculture sector can be provided with adequate skill training to enable them to join the manufacturing sector strengthening the Government of India's 'Make in India' campaign.
Climate Change
A landmark agreement amongst countries to address climate change challenge was signed in Paris in December 2015 to limit the global temperature rise to below 2°C and work towards adaptation. Subsequent to the ratification of the Paris agreement by major countries, the climate change agreement gained momentum in the Conference of Parties (COP-22) at Morocco with focus shifting to higher commitments and creation of an implementation framework. India, through ratification of the Paris agreement, has agreed to abide by its commitments under Nationally Determined Contributions (NDC) to UNFCCC. India's commitments are focusing on voluntary targets of reducing emissions intensity, increasing the share of non-fossil based electricity, and creating additional carbon sinks. All these in turn would imply targeted interventions from the various industrial sectors of India. India's aim to reduce its emissions intensity by 30-35% by 2030 through various programmes such as renewable energy, and energy efficiency would in turn imply specific targets for reduction in GHG emissions intensity for the various industrial sectors. As sector specific targets would become a reality sooner or later, Indian industries need to revisit their individual GHG contribution with representative projection till 2030 and adopt a low carbon growth trajectory. In addition, Indian industry sector would also face significant challenges due to price volatility in the global energy market, which may hamper investments into the renewable energy projects.
Social Infrastructure
As a growing economy, India has to deal with the problems of rapid and unplanned urbanisation. Increasing population, higher consumption levels and inadequate infrastructure are putting a severe strain on the ecology. A large amount of waste being generated today ends up in landfills, leading to serious concerns of public health and sanitation risks as well as large-scale environmental degradation. Negative impacts of urbanisation are also manifest in the pollution of almost all Indian rivers that have been absorbing domestic and industrial sewage and agricultural wastes over the last few decades. Apart from posing a serious health problem to millions of people that continue to depend on polluted water from rivers, this also endangers the biodiversity dependent on it. It is therefore the need of the hour for the country to invest in basic infrastructure. This will further require enormous resources that can only be generated with a larger focus on livelihood creation and widening of the tax base.
In the light of rapid urbanisation, road safety has also emerged to be a growing and alarming national concern. Over the years, the significant growth of vehicles on Indian roads has been the leading cause of accidents resulting in deaths, disabilities and hospitalisations with severe socio-economic costs across the country. According to a report by the Transport Research Wing of Ministry of Road Transport and Highways, Government of India, during the year 2014, there were around 4.89 lakhs road accidents with about 1.4 lakh fatalities and injuring more than 4.93 lakh persons in India. Such numbers strongly indicate not only the need for improving the emergency medical aid and road infrastructures but also the need to spread mass awareness on behavioural safety.
2Charting our Water Future, Report by 2030 Water Resources Group, 2009
3Economic Survey 2015-16
4Prioritisation of Rainfed Areas in India, Planning Commission Report, February 2012