ITC straddles a range of businesses within the FMCG segment, including Branded Packaged Foods, Personal Care Products, Cigarettes, Lifestyle Retailing, Education and Stationery Products, Safety Matches and Incense Sticks (Agarbattis). Keeping pace with the rapid growth of the FMCG industry in India, ITC has significantly scaled up its presence in this segment.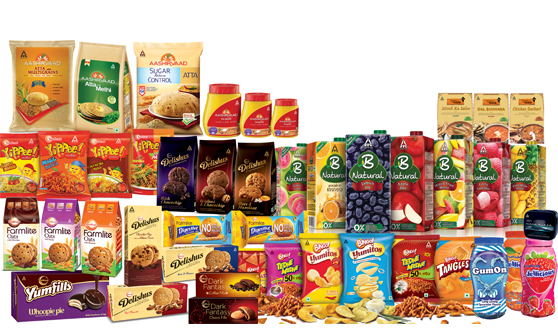 ITC's Branded Packaged Foods business is one of the fastest growing foods businesses in India. A spread of delectable offerings in Staples, Snacks & Meals, Confections and Beverages is available under the popular brands - 'Aashirvaad', 'Sunfeast', 'Bingo!', 'YiPPee!', 'Kitchens of India', 'mint-o', 'B Natural', 'Candyman' and 'GumOn'. In line with the Company's strategic objective of being the leader in the premium segment, ITC Foods offers an array of top-end products like 'Aashirvaad Select', 'Aashirvaad Atta with Multigrains' and 'Aashirvaad Atta with Methi', 'Aashirvaad Superior MP'; 'Aashirvaad Svasti' ghee; 'ITC Master Chef' spices; 'Sunfeast Dark Fantasy Choco Fills' and 'Sunfeast Dark Fantasy Choco Meltz'; 'Sunfeast Delishus Nuts & Raisins' and 'Sunfeast Delishus Nut Biscotti' biscuits; and 'Yumfills Whoopie Pie'. During the year, the business launched the 'Sunfeast Delishus Gourmet cookies - Chocolate Chip made with Ghana Cocoa', 'Sunfeast Farmlite Oats with Chocolate' and 'Sunfeast Marie Light Rich Taste'. The portfolio also includes the health biscuit, 'Sunfeast Farmlite' in two variants (Almonds and Raisins), and a range of cookies, 'Sunfeast Mom's Magic' (Rich Butter and Cashew & Almonds). ITC also forayed into the Dairy category with the launch of 'Aashirvaad Svasti' - Pure Cow Ghee in select markets. The business recently launched a range of blended spices in select markets under the 'ITC Master Chef' brand. In Beverages, the 'B Natural' range of juices garnered impressive consumer traction in a relatively short span of time.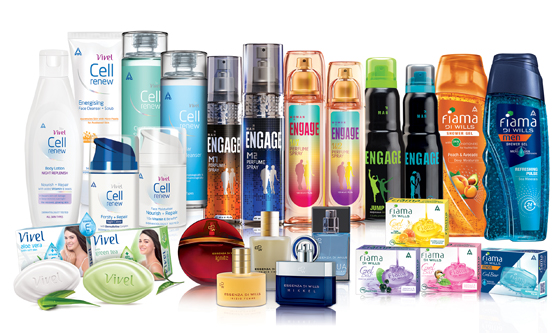 Specially crafted for Indian preferences, ITC's personal care products portfolio offers a range of internationally benchmarked grooming and personal wash products. Anchored on extensive consumer and market research based product development, ITC's personal care brands 'Essenza Di Wills', 'Fiama Di Wills', 'Engage', 'Savlon', 'Shower to Shower', 'Vivel', 'Cell Renew' and 'Superia' offer products with relevant, differentiated benefits to the discerning consumer. During the year, the Business launched several differentiated product offerings in the Soaps, Shower Gel, Skin Care and Deodorant categories under the 'Fiama Di Wills', 'Vivel', 'Engage' and 'Superia' brands, besides establishing presence in the Health & Hygiene category leveraging the recently acquired 'Savlon' and 'Shower to Shower' brands. The Company entered the fast-growing Hand Wash category with the introduction of Savlon Hand Wash in three variants. Other launches include 'Fiama Di Wills Double Moisturiser Bathing Bar', 'Vivel Neem', 'Superia Silk Cherry' bar soaps and a regimen of skin care products such as 'Makeup Cleanser', 'Clarifying Skin Toner' and 'Night Cream' under the 'Vivel Cell Renew' brand. The Engage range of deodorants gained further momentum during the year and strengthened its No.2 position in the category. The portfolio was fortified during the year with the addition of 'Engage Perfume Sprays' in two variants each for men and women.
ITC reinforced its leadership position in the cigarette industry by leveraging its comprehensive product portfolio and world-class execution capabilities.
ITC's Lifestyle Retailing business continues to grow its market standing by investing in brand building, enhancing product vitality and supply chain capabilities; expanding its retail footprint across the country. Synonymous with Fashion and Elegance, the Wills Lifestyle range of apparels offers a premium lifestyle wardrobe for Indian men and women at over 100 exclusive specialty stores in 50 cities, 350 outlets in leading departmental stores and multi-brand outlets and 6 exclusive boutiques across ITC Hotels. With its high fashion imagery, rich product mix and delightful shopping experience, the brand offers a tempting choice of 'Wills Classic' formal wear, 'Wills Sport' relaxed wear, 'Wills Clublife' evening wear and 'Wills Signature' designer wear. During the year, the premium imagery of the 'Wills Classic' range was sharpened with the introduction of a finely crafted range of offerings under the 'Luxuria' and 'Regalia' collection and natural-fibre products such as linens under the 'Ecostyle' collection.
'John Players', which has emerged as a leading brand in the 'Youth fashion' segment, embodies the essence of the Indian youth that is free-spirited, playful and fashionable. The brand presents smart formals, trendy casuals and edgy denims incorporating an exciting mix of colours, patterns, styling and fits. John Players is present pan-India with over 400 flagship stores, 600 'shop-in-shops' in leading national & regional retail chains and departmental stores, and 1,600 multi-brand outlets.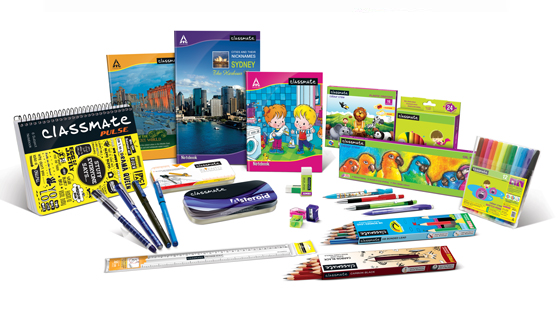 ITC's Education & Stationery Products Business offers consumers a wide range of differentiated products under the brands 'Classmate' 'Classmate Pulse', 'Paperkraft' and 'Saathi'. A clear market leader in the student notebooks segment, Classmate's portfolio also includes writing instruments (pens & pencils) and scholastic products (mathematical drawing instruments, scales, erasers & sharpeners). 'Colour Crew', a sub brand of Classmate, offers an exciting range of superior quality student art materials which includes nontoxic oil pastels, plastic crayons, wax crayons and sketch pens. Saathi, a value brand of notebooks, is targeted at smaller markets. The Paperkraft brand is the leading provider of premium executive & office paper stationery, including notebook ranges of Green Impression and Signature Series as well as an assortment of premium pens. The Business recently launched several differentiated offerings under the 'Classmate', 'Classmate Pulse', 'Paperkraft' and 'Saathi' brands, including products in innovative formats like Paperkraft notebooks with unique covers and Classmate Octane pens. Offering the greenest range of stationery products, supported by a green wood fibre value chain that creates large-scale livelihoods in rural India, Classmate and Paperkraft notebooks are an embodiment of the environmental capital built by ITC in its paper business.
ITC's 'Mangaldeep' brand, offering a range of well-crafted products, is one the fastest growing agarbatti brands in the country. ITC also enjoys leadership position in the 'Dhoop' segment.
While the Agarbatti industry in India primarily continues to import raw materials, resulting in loss of livelihood opportunities for women and tribals in rural areas, ITC has implemented several measures, including facilitating the mechanisation of agarbatti manufacturing at vendor locations and backward integration by vendors into raw batti manufacturing using indigenous inputs, to enhance the competiveness of the domestic industry.
ITC is also the leader In the Safety Matches category with 'Aim' being the largest selling brand in the industry.