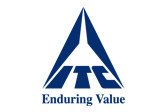 Agri
Commodities
&
Rural Services

ITC's pre-eminent position as one of India's leading corporates in the agricultural sector is based on strong and enduring farmer partnerships that has revolutionized and transformed the rural agricultural sector. A unique rural digital infrastructure network, coupled with deep understanding of agricultural practices and intensive research, has built a competitive and efficient supply chain that creates and delivers immense value across the agricultural value chain. One of the largest exporters of agri products from the country, ITC sources the finest of Indian Feed Ingredients, Food Grains, Marine Products, Processed Fruits & Coffee.
ITC's Agri Business is the country's second largest exporter of agri-products. It currently focuses on exports and domestic trading of:
Feed Ingredients - Soyameal
Food Grains - Wheat & Wheat Flour, Rice, Pulses, Barley & Maize
Marine Products - Shrimps and Prawns
Processed Fruits - Fruit Purees/Concentrates, IQF/Frozen Fruits, Organic Fruit Products
Coffee
Farmer empowerment through e-Choupals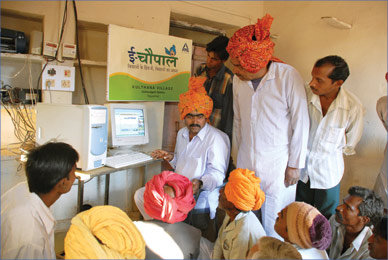 ITC's unique strength in this business is the extensive backward linkages it has established with the farmers. This networking with the farming community has enabled ITC to build a highly cost effective procurement system. ITC has made significant investments in web-enabling the Indian farmer. Christened 'e-Choupal', ITC's empowerment plan for the farmer centres around providing Internet kiosks in villages. Farmers use this technology infrastructure to access on-line information from ITC's farmer-friendly website www.echoupal.com. Data accessed by the farmers relate to the weather, crop conditions, best practices in farming, ruling international prices and a host of other relevant information. e-Choupal today is the world's largest rural digital infrastructure.
The unique e-Choupal model creates a significant two-way multi-dimensional channel which can efficiently carry products and services into and out of rural India, while recovering the associated costs through agri-sourcing led efficiencies. This initiative now comprises about 6100 installations covering over 35000 villages and serving over 4 million farmers. Currently, the 'e-Choupal' website provides information to farmers across the 10 States of Madhya Pradesh, Haryana, Uttarakhand, Uttar Pradesh, Rajasthan, Karnataka, Kerala, Maharashtra, Andhra Pradesh and Tamil Nadu.
Supporting the e-Choupal network are ITC's procurement teams, handling agents and contemporary warehousing facilities across India, enabling its Agri Business to source identity-preserved merchandise even at short notice. ITC's processors are handpicked, reliable high quality outfits who ensure hygienic processing and modern packaging. Strict quality control is exercised at each stage to preserve the natural flavour, taste and aroma of the various agri products.
Choupal Pradarshan Khet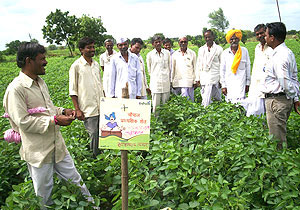 In line with its mission of improving the quality of life in rural India, ITC's Agri Business has launched a flagship extension programme called 'Choupal Pradarshan Khet' (CPK) or demonstration plots to help farmers enhance farm productivity by adopting agricultural best practices. Started in 2005-06, the crop portfolio includes soya, paddy, cotton, maize, bajra, wheat, gram, mustard, sunflower and potato. This initiative, has covered over 64,000 hectares and has a multiplier impact and reaches out to more than 70,000 farmers.
Choupal Saagar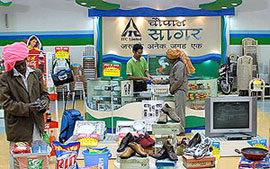 Following the success of the e-Choupal, the Company launched Choupal Saagar, a physical infrastructure hub that comprises collection and storage facilities and a unique rural hypermarket that offers multiple services under one roof. This landmark infrastructure, which has set new benchmarks for rural consumers also incorporates farmer facilitation centres with services such as sourcing, training, cafeteria, banking, investment services, fuel station etc. 23 'Choupal Saagars' have commenced operations in the states of Madhya Pradesh, Maharashtra and Uttar Pradesh.
To know more about ITC Agri Business' Rural Marketing initiatives, click here
Processed Fruits
"In line with its strategy of achieving a higher order of value capture, the business also focuses on the value added segment, steadily enhancing its basket of offerings with several new products. These include frozen foods, IQF (individually quick frozen) fruits, niche products like baby-food quality purees and high brix pulp, traceable and organic purees. ITC seeks to focus on this segment and exploit the market opportunity for tropical fruits and fruit products, where India has a natural advantage of growing the complete range, including exotic varieties. In Processed Fruits category, ITC exports from ISO certified plants to Western Europe, North Africa, West Asia, Japan and North America, a wide range of Processed Fruit products made from Mango (Alphonso, Kesar & Totapuri), Guava, Papaya and Pomegranate. ITC is the leading Indian exporter of Organic and Fairtrade Certified Fruit Products certified to European (EC 2092/91) and US (NOP) Standards."
Marine Products

ITC has been a significant exporter of seafood from India since 1971. It exports frozen as well as cooked shrimps and other seafood products to Europe, Japan, Middle East, Russia, USA, Vietnam etc.
A Customer Centric Approach
ITC's Agri Business Division continues to use innovation as its core strategy to retain its position as the one-stop shop for sourcing agri-commodities from India. Besides setting benchmarks in quality, reliability and value-added services, ITC is a trendsetter in customer care particularly in commodity trading. Major customers include Cargill, among others, who source agriculture commodities and food products from India.
Sourcing for ITC
ITC's Agri business is progressively aligning its commodity portfolio with the sourcing needs of the Company's Foods business to generate higher order value from its agri procurement infrastructure. The business has commenced procurement of chipstock potatoes, one of the critical raw materials in the manufacture of the Company's 'Bingo!' brand of potato chips. The acquisition of Technico, an Australian company with technology leadership in the production of early generation seed potatoes, helped the business access a ready pipeline of new high-yielding varieties of chipstock potato seeds.
Awards
ITC's Agri Business Division has won numerous awards:
United Nations Industrial Development Organisation (UNIDO) Award at the international conference on Sharing Innovative Agribusiness Solutions 2008 at Cairo for ITC's exemplary initiatives in agri business through the e-Choupal.
The Ashoka - Changemakers 'Health For All' Award 2006 for the Rural Health Services model for delivery of health services through the e-Choupals.
The Stockholm Challenge 2006 for the e-Choupal initiative. This award is for using information technology for the economic development of rural communities.
Innovation for India Award 2006 for ITC e-Choupal in the Social Innovations category for business organizations. The first of its kind in India, based on parameters of number of lives impacted, degree of impact on organization and environment, uniqueness, leverage of resources and whether it was scalable and sustainable, e-Choupal was declared as one of 'India's Best Innovations'.
The Development Gateway Award 2005 (previously known as the Petersberg Prize) for its trailblazing e-Choupal initiative. ITC is the first Indian company and the second in the world to win this prestigious award.
The 'Golden Peacock Global Award for Corporate Social Responsibility (CSR) in Emerging Economies for 2005'. The Company received this award for its e-Choupal and social and farm forestry initiatives that are impactfully transforming lives and landscapes in rural India.
The Corporate Social Responsibility Award 2004 from The Energy and Resources Institute(TERI) for its e-Choupal initiative. The Award provides impetus to sustainable development and encourages ongoing social responsibility processes within the corporate sector.
The inaugural 'World Business Award', instituted jointly by the International Chamber of Commerce (ICC), the HRH Prince of Wales International Business Leaders Forum (IBLF) and the United Nations Development Programme (UNDP) for the e-Choupal intervention. This award recognises companies who have made significant efforts to create sustainable livelihood opportunities and enduring wealth in developing countries.
The 'Enterprise Business Transformation Award' for Asia Pacific (Apac), instituted by Infosys Technologies and Wharton School of the University of Pennsylvania, for e-Choupal.
PC Quest's IT Implementation Award in the 'Best Project' category, for the e-Choupal initiative.
The Golden Peacock Innovation Award 2004 for e-Choupal.
The NASSCOM award for 'Best IT User in FMCG' in 2003. The Award is a recognition of ITC's successful integration of its IT usage with its business processes, specially the e-Choupal initiative.
The Seagate Intelligent Enterprise of the Year 2003 Award, for the most innovative usage of Information Technology. This award recognises ITC's pathbreaking e-Choupal initiative.
Links to Press Reports
Apr 09, 2016

Jan 05, 2016

Feb 17, 2015

Jun 27, 2014

May 14, 2014

Oct 21, 2013

Jul 25, 2012

May 31, 2012

Feb 15, 2012

Dec 07, 2011

Oct 17, 2011

Jun 25, 2010

May 12, 2010

Apr 12, 2010

Mar 24, 2010

Jan 07, 2010

Apr 05, 2009

Aug 25, 2007

Aug 06, 2007

Jun 05, 2007

Feb 23, 2007

Jan 20, 2007

Dec 26, 2006

Dec 16, 2006

Nov 22, 2006

Aug 14, 2006

Jul 07, 2006

Jul 02, 2005
Please visit our sites:
www.itcabd.com