Our Talent Brand
Summer Internship Program
Management Trainee Program
ITC Stories
Our Talent Brand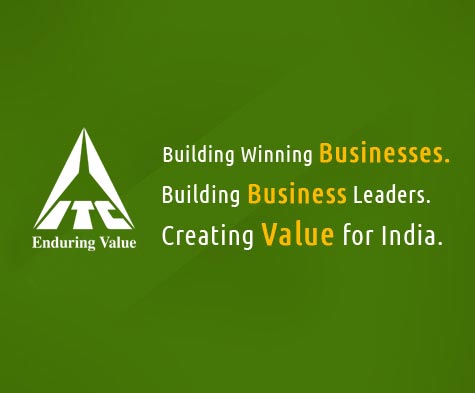 Our talent brand "Building winning businesses. Building business leaders. Creating value for India.", reflects our commitment to nurture world-class talent whilst providing people the opportunity to develop as leaders and make a contribution to a larger purpose. This unique brand proposition backed by its strong corporate equity, has enabled the attraction and retention of high quality talent. This talent pool and its strong alignment with our vision, has contributed to enhancing ITC's standing as one of India's most valuable corporations.
Our talent engagement approach is focussed on:
Attracting and nurturing quality talent supported by significant investments in learning and development; a culture of empowerment, care and concern supported by systems and processes that encourage engagement and involvement.
Creating a responsive, stakeholder-centric and market-focused culture that enhances organisational capability and vitality.

Our strategy of organisation is based on the principle of distributed leadership in order to unleash the entrepreneurial energies of our human resources. The strategy of organisation and its on-going emphasis on developing and supporting distributed leadership have ensured that each of our Company's businesses are managed by a team of competent, passionate and inspiring leaders.
Summer Internship Program
Overview
Knowledge, Initiative & Talent Excellence Series (KITES) is ITC's Summer Internship Programme designed to provide tomorrow's leaders a unique platform to learn, experience, and manage real business situations.
KITES is a one-of-its-kind programme. Students are given the opportunity to experience the rigours of actual work and live business scenarios, apply their theoretical learnings 'on the job' and gain precious insights into management, leadership, and everyday challenges. KITES works both ways - while students get to intern with one of ITC's businesses and understand the core process of value-creation, we get re-energised by a host of new ideas, fresh perspectives, and compelling observations brought to the table.
Internships are offered for two months each year. KITES is a critical platform that enables us to identify exceptional talent from the best institutes in India who have the potential to become the next generation of leaders at ITC. Interns are awarded Pre-Placement Offers of Employment based on their performance during the internship.
Mind Over Matter
Management
Technology
Selection Process
Campus Ambassador
KITES 2022
As a precursor to the KITES internship, an orientation programme called 'Mind Over Matter' is organised for all the interns. The programme aims at providing interns with a better understanding of ITC, how best to approach the internship, and an opportunity to meet with ITC's leadership. Interactions during the orientation are designed to provide insights that enable the interns to apply their academic learning more effectively to real-life work challenges. The focus is on making the summer internships more meaningful, both for the student and the organisation.
For KITES, ITC selects interns from premier management campuses across the country. We offer projects in the following fields:
Marketing
Human Resources
Supply Chain/Operations
Environment, Health and Safety
Projects are carefully selected to offer interns an experience of real-life business problems/situations that foster an enhanced appreciation of business complexities, besides providing a detailed insight into their chosen functional domain.
The two-month internship comes with tremendous opportunities to learn and make things happen, to create a real and everlasting impact.
For KITES, ITC recruits interns from premier technical campuses across the country. We offer projects in the following fields:
Production
Engineering
Process Excellence / Six Sigma Projects
Product Development
Internship projects pertain to the core engineering fields - Mechanical, Electrical, Chemical. At times, based on specific requirements, other specialisations are also included.
The projects are carefully chosen to offer interns real-life business problems that enable a better appreciation of business complexities while also providing them with in-depth knowledge in the preferred functional domain.
There are the following stages to the selection of interns under KITES:
Step I: Application Screening
Interested students from premier campuses are invited to apply to us. An ideal candidate aspiring for an internship opportunity must possess the right mix of academic achievements and co-curricular excellence. We look for students who can think creatively, work in teams, convert adversity into opportunities and lead through ambiguous situations. Candidates must have demonstrated leadership across various spheres of their student life. As our operations are spread across cities and rural settings, we prefer candidates who are open to the idea of working in locations that could be remote and culturally distinct from their own.
Step II: Group Activity
Candidates are then invited to participate in a group activity. This activity provides us insights into the candidate's ability to lead, influence, communicate and work as a team member to achieve the desired results - all essential skills for a successful manager and emerging leader.
Step III: Personal Interaction
Candidates selected through the group activity, are invited for personal interaction with some of ITC's senior managers, allowing us the opportunity to understand the candidate's depth of functional knowledge, general awareness, and the overall fit with our core values, besides gaining a better understanding of the candidate's background and attributes like leadership, teamwork and the ability to succeed.
Each step presents us with a unique opportunity to get to know them better, and we look forward to the same!
A Campus Ambassador is an institute alumnus who acts as the students' connect with ITC - the one-point contact. Any questions relating to ITC, right from the company structure, operations, brands, products, to organising guest lectures, information about the placement process, to knowing what it is like to work in ITC, students are free to contact their Campus Ambassador.
The Campus Ambassadors are:
Management Campuses:
| Institute | Name | Division |
| --- | --- | --- |
| FMS Delhi | Jaydeep Pathak | TM&D |
| IIFT Delhi | Jishnu Misra | TM&D |
| IIM Ahmedabad | Isha Chandulal Nisar | TM&D |
| IIM Bangalore | Steven Rathod | TM&D |
| IIM Calcutta | Vedant Gote | TM&D |
| IIM Lucknow | Shilpi Yadav | TM&D |
| IIM Shillong | Kirti Agiwal | TM&D |
| MDI Gurgaon | Anto Thomas | TM&D |
| MICA Ahmedabad | Shruti Singh | TM&D |
| NITIE Mumbai | Navin Singh Rawat | PCPB |
| NMIMS Mumbai | Soumyadeep Saha | TM&D |
| SCMHRD Pune | Dimple Rai | ABD |
| SIBM Pune | Aishwarye Rajan | TM&D |
| SPJIMR Mumbai | Aditi Rathore | TM&D |
| TISS Mumbai | Arpit Kumar | Corporate |
| VGSoM | Date Mayur Narayan | TM&D |
| XLRI Jamshedpur | Shreya Jain | ABD |
*For IIM Kozikhode & IIM Indore write in to Anshul.Kharbanda@itc.in
Technology Campuses:
| College | Camby Name | Division |
| --- | --- | --- |
| IIT BHU | Ameya Sinha | ESPB |
| IIT Kharagpur | Koustav Chakraborty | FBD |
| NIT Trichy | Anuj Dasgupta | LSTC |
| NIT Warangal | Malvika Singh | FBD |
| IIT Madras | Aditya S Vallakkudath | ABD |
| IIT Kanpur | Nitik Jain | FBD |
| IIT Delhi | Aashish Kumar | FBD |
| IIT Bombay | Gourav Chopra | FBD |
| IIT Roorkee | Amogh Tandon | FBD |
Management Trainee Program
Overview
Assistants Under Training, commonly known as AUTs, are students of premier engineering and management institutes who choose to pursue their careers with ITC, straight after they graduate from their institute. AUTs are inducted into the ITC system with the objective of nurturing and grooming them to be the leaders of tomorrow. From the day an AUT joins ITC, we ensure that necessary inputs are provided in terms of managerial development, cross functional and cross business exposure, and in-depth functional experience in order to develop domain expertise, equip them with the knowledge and skills required to perform their roles, as well as, lay the foundation for their growth and development as business leaders. AUTs undergo training for a period of 6 to 9 months and in a period of 1 year, they are confirmed as Assistant Managers.
Induction
Management Campuses
Technology Campuses
AUT 2022
Upon joining ITC, AUTs are taken through a corporate induction programme wherein they are introduced to the various Businesses and functions. The induction programme is also aimed at facilitating a smooth transition from campus to the corporate world as well as to provide an opportunity to interact with business leaders. On the whole, the programme aims at giving AUTs an appreciation of what defines ITC, how ITC works and touches lives.
Once AUTs join their respective businesses, they go through a division and function specific detailed induction programme which provides them with a thorough overview of the business model of the division, introduces them to various functions within the business, and gives them an extensively detailed insight into their own function. The induction programme is supported by projects and stints which helps them to grasp the various nuances of the business and, at the same time, contribute to the growth of the Company.
ITC recruits from premier management campuses across the country for its requirements in Marketing, Human Resources, Supply Chain/Operations etc. The diversity in ITC's businesses - superior brand building capabilities, unmatched supply chain, experience in working in new and established businesses, added to the large employee base and operations spread across the length and breadth of the country - offers management AUTs a unique and unparalleled experience.
Budding Engineers from select IITs and NITs join ITC, and a world of the latest technology, state of the art machines is thrown open to them. With operations spread over the country ranging from factories in Paper and Paperboards, FMCG and Agri to new projects in these businesses, ITC is, undoubtedly, an engineer's paradise. Responsibilities begin early with exposure to projects, production planning, product quality, product development, tracking financials, state of the art machines and people leadership, making ITC one of the most challenging, rewarding and enriching experience.
Interrobang?! : ITC on Campus
Interrobang?!

About Season 11!
Details
Dates & Deadlines
Prizes
Contact Us

What's in Store
This year, as we launch 'Interrobang?! Season 11', we present to you a more enhanced platform with the introduction of the ITC Interrobang Season 11 National Case Challenge round. This will give you the opportunity to ideate and present new solutions for ITC. Season 11 will comprise of the following:
1. Interrobang Season 11 Case Challenge: is a platform where live problems in Brands, Supply Chain, Human Resources and Technology will be shared in case-lets on Campuses. The Case Challenge offers its participants the opportunity to provide solutions to these live business problems. The top two most innovative solutions will get the chance to present to the ITC Team in the Campus Round and will stand a chance to qualify for the National Round.
2. ITC MasterClasses - Delivery of webinars by ITC Managers who are subject matter experts on ITC's best practices and success stories across various domains especially leveraging Digital, Technology whilst also focusing on sustainability.
3. InterroJam sessions - Senior leaders from ITC will share stories and insights on world-class best practices from ITC. This will enable students to appreciate how HR and Marketing Strategy as well as Technical and Supply Chain processes align with business strategy and how they are anchored to organisational values. The Interrojam sessions are followed up with the ITC Interrobang Season 11 Case Challenge where campus winners are declared.
4. National Round - This is the first season that Interrobang: ITC On Campus will offer students an opportunity to compete across campuses. The national round will be conducted for 4 functional domains,: Marketing, Human Resources, Supply Chain and Technical. Winners will be declared from each stream. National Round Winners will receive cash prizes.
5. Interroquiz: is a daily quiz hosted on ITC's Facebook Page - itchubnscope (www.facebook.com/itchubnscope), where students from participating campuses irrespective of stream or year can participate and stand a chance to win ITC Gift Hampers worth Rs. 2000 per day per winner.
Eligibility (Management Stream)
The ITC Interrobang Season 11 Case Challenge is open to full time final year students pursuing Management studies in the following flagship courses and from the below mentioned campuses:
| Stream | Participating Campuses |
| --- | --- |
| Marketing | FMS-D, IIFT-D, IIM-A, IIM-B, IIM-C, IIM-I, IIM-K, IIM-L, MDI-G, XLRI-J, MICA-A, NMIMS-M, SIBM-P/ SCMHRD-P, SPJIMR-M |
| Human Resources | MDI-G, XLRI-J, SIBM-P/ SCMHRD-P, TISS-M |
| Supply Chain Management | NITIE-M, SPJIMR-M |
Eligibility (Technology Stream)
The ITC Interrobang Season 11 Case Challenge is open to final year students pursuing Technology studies in the following domains and from the below mentioned campuses:
Domain
Campuses
Mechanical Engineering, Industrial and Production Engineering, Material Sciences and Engineering, Chemical Engineering, Electrical Engineering, Electronics Engineering, Electrical and Electronics Engineering, Electronics and Communication Engineering, Instrumentation Engineering, Mathematical and Scientific Computing, Mathematical and Data Computing
IIT-Kanpur
IIT-Madras
IIT-Kharagpur
Teams:
3 - 5 members. No student may be a member of more than 1 team. Cross Specialization teams from the streams mentioned above are not allowed. Any deviation from the above will result in immediate disqualification of the entire team.
Where to register?
Register with your Placement Committee Point of Contact (POC) by giving the names of your team members, email IDs, mobile numbers and your team name.
Where to send in your entries?
All registered teams must get in touch with your Placement Committee Point of Contact (POC) on how to submit your case solutions.
What happens after the submission of proposal?
Among all the entries received in each participating campus, the top 5 entries will be selected through preliminary screening by ITC. The top entries will be provided the opportunity to present their idea and detailed proposal to the ITC team, when it schedules the virtual campus events as part of Interrobang. ITC's Panel, after assessing the ideas and solutions of the top teams, will decide on the Winner and the Runner-Up in each campus. The Campus Winners then qualify for evaluation and selection to contest in the National Round.
Key Deliverables
Initial Submission: Executive Summary in prescribed format (Not more than 2 pages) along with a presentation (Not more than 10 slides). For more details, kindly refer the ITC Interrobang Season 11: Case Challenge Brochure available with your Placement Committee Point of Contact (POC)
Dates and Deadlines
Registration for ITC Interrobang Season 11: Case Challenge - 1st week of October 2021, 11:00 PM IST.

Interrobang Season 11 : ITC on Campus launch on 4th October 2021, 7:00 PM IST through ITC hubnscope on facebook

Case Challenge launch 2nd Week of October 2021

Date & Time for campuses and streams will be communicated through ITC Hub n Scope/Placement Committees

ITC Master Classes - 2nd Week of October to December '21

Submission of Executive Summary and Presentations - 21st October 2021

Campus Round - Last week of October 2021 onwards

National Round - 2nd to 3rd Week of December 2021
Contact Us
ITC Stories
ITC Experience - Just a minute (JAM)