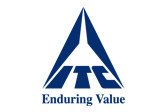 | | | |
| --- | --- | --- |
| | | |
Sustainability

Adopting a Low Carbon Growth Path and a
Cleaner Environment Approach
Renewable Energy
ITC commitment to the environment is manifest in its constant endeavour to enlarge its positive carbon footprint. This is achieved not only through enhanced energy conservation, but also through use of renewable energy sources and expanding carbon sequestration through its large scale Social and Farm Forestry Programmes. Apart from concerted efforts by all units to reduce energy consumption through stringent audits and benchmarking, ITC is also constantly expanding its renewable energy portfolio. More than 43% of its energy consumption is now met from renewable sources, and this is expected to touch 50% in the next 4-5 years.
Green Hotels
ITC Hotels pioneered the concept of 'Responsible Luxury' in the hospitality industry, drawing on the strengths of the ITC group's exemplary sustainability practices. Responsible Luxury personifies an ethos that integrates world-class green practices with contemporary design elements to deliver the best of luxury in the greenest possible manner. The Responsible Luxury commitment of ITC Hotels blends elements of nature to deliver a unique value proposition to guests, conscious of their responsibility to be planet positive.
Today, these unique interventions have made ITC Hotels the 'greenest luxury hotel chain in the world' with all its premium luxury hotels LEED (Leadership in Energy and Environmental Design) Platinum certified. In pursuit of ITC's commitment to 'Responsible Luxury' investments have been made to provide clean power to ITC's hotels in Bengaluru, Mumbai and Jaipur. Further investments in wind energy were also made at the newly built ITC Grand Chola at Chennai.
Waste Recycling
ITC has implemented a number of measures in waste management to create a positive environmental footprint as part of its enduring commitment to sustainable natural resource management. All ITC units are mandated to achieve total recycling of waste generated by their operations. All the units have made significant progress in achieving this target, recycling over 99.9% of waste generated by its operations.
In 2007, ITC also initiated a unique project - Wealth Out of Waste (WOW) - a recycling programme to create awareness on the 'Reduce-Reuse-Recycle' approach, and inculcate the habit of source segregation. Apart from augmenting scarce natural resources the initiative also generates cost-effective raw materials for the paper, plastics, metal and glass industries. These initiatives have enabled ITC to remain Solid Waste Recycling Positive for over 6 years now.
Registered Office:
ITC LIMITED, Virginia House, 37, Jawaharlal Nehru Road, Kolkata - 700071, India | Ph: +91-33-22889371, Fax:+91-33-22880655
Corporate Identity Number: L16005WB1910PLC001985 | For any queries or grievances contact Mr Aurko Dasgupta at
Website optimised for IE 7.0 with 1024 x 768 screen resolution |
© ITC Limited